Masterpiece
27/04/2012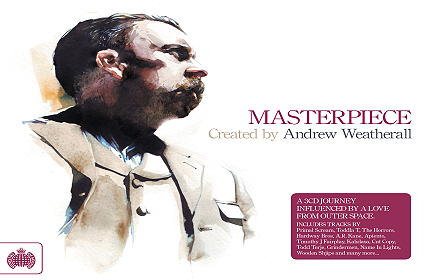 After being influenced by a love from outer space, Andrew Weatherall has created the new Masterpiece compilation.
Across 3 discs, he ranges through styles as diverse as acid house, rockabilly, electronica, techno, post punk and deep house including rare cuts from a record collection acquired over 3 decades.

Weatherall is known for his early involvement with acid house club Shoom and for remixing artists such as Bjork, Friendly Fires and the Happy Mondays as well as work with Primal Scream.

The theme of this project - love from outer space - is also the name for his eclectic cult all night party which is part of festivals and clubs worldwide.

The Masterpiece album features tracks by artists such as Grinderman, The Horrors, Hardway Brothers, Copyshop, Name In Lights and Primal Scream.

Including his own edits and remixes, it is an honest representation of his imaginative and unpredictable take on a sound that spans generations.

Masterpiece: a 3 CD journey influenced by a love from outer space: created by Andy Weatherall is out now on Ministry Of Sound.
More about Masterpiece