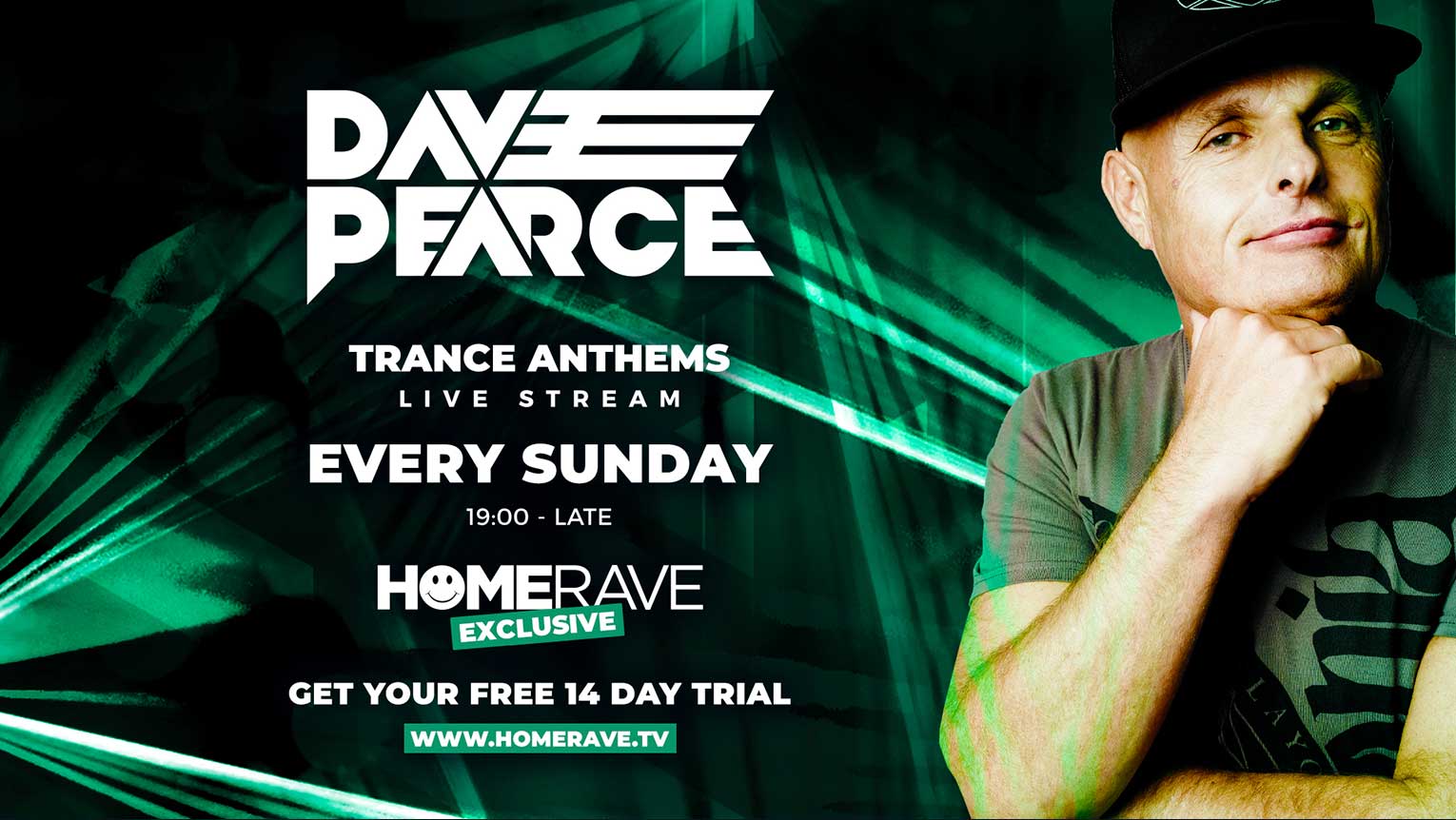 Weekly Message - April 13th 2021
Hi Everyone -
I've just updated projected 2021 tour dates in the DJ Dates section. They are all subject to UK Covid Regulations, promoters have worked with the information provided to them by UK Govt. Fingers crossed.
Firstly I hope you are doing ok during this very difficult period. Thanks so much to everyone who has signed up to join me live on Sunday nights at 7pm on HomeRave.TV for my Trance Anthems liveshow. I love getting your videos of you dancing along to the show at home - so if you would like to send a video to be shown on the show mail it to me at photos@davepearce.co.uk. We can show videos that arrive before the show in higher quality. My dj mate Judge Jules has recently joined Home Rave to do his show on Saturday nights. Read more about Homerave.tv further down this message.
As I have been unable to work for over a year now things have been pretty tough and very depressing but I was pleased to be approached to join Homerave.tv to stream my Sunday night Trance Anthems show . Homerave is registered with PRS so the artists whose music we play get paid and we don't get take downs like we have had on facebook and Youtube. For the price of a pint in a London bar you can get a months worth of different dj's and styles of dance and be part of the chat community. I'm pleased to be able to help support other djs who have lost their livelihood during the pandemic and not and not had proper government support. If you haven't joined us yet you can get a free trial by clicking this link
https://homerave.tv/orders/customer_info?o=39832
Here are a few FAQ
Q
- How much is it?
A
-Home Rave uses a Netflix style model to offer value for money.
The platform is priced at £4.99 per month and that gives you access to every stream and DJ on the site as well as catch up. This is very different to other alternatives which price per artist.
Q
- Is there a trial and it is easy to cancel?
A
- There is a three day trial and you can cancel at any time easily inside the billing section of your account.
Q-
Are my details secure?
A
- Of course. Home Rave works with market leader Stripe to offer a secure service.
Q
- Is there an App?
A
-The catch up app will be on the app store within the coming weeks and has all been approved and tested on iOS, Android, Roku, Apple TV and Fire TV.
The
site has been used as a web app so far and has run great. The web app will work on most devices and TV's although we cant guarantee it on all.
Most
users cast from their phones to their smart TV for an optimum viewing experience.
Q
- Can we chat?
A
- Absolutely. The chat is the key part of our site and is moderated to ensure a safe and enjoyable experience.
Q
- Can we catch up?
A
- Yes. Sets will be available the next day.
Q
- Is there support?
A
- The site has a Support/FAQ page as well as email support.
Q
- I am an artist and noticed my tracks been played. I am registered with PRS. How do I get royalties?
A
- Home Rave will use a Shazam style software called AC3 Cloud which tags tracks played after shows have gone out. This is then sent to a database and when the audits are due will be sent to the PRS who then distribute accordingly.
https://www.youtube.com/c/DavePearceOfficial/videos
. Also on Twitch TV at:
https://www.twitch.tv/davepearceofficial
.
My Delirium upfront Trance show is available on Apple Podcasts and on Mixcloud - when we can we will try and stream a replay on Tuesday nights at 8pm on YouTube at
DavePearceOfficial
.
Don't miss my Delirium podcast with Metta&Glyde in the mix
Apple Podcasts
and
Mixcloud
.
Follow me on Social media at
Twitter
,
Facebook
and
Instagram
---
If you are a promoter interested in making a booking message here: dpearcebookings@gmail.com
Due to latest Govt statement - Currently once again looking to see if any events can possibly be rescheduled and wh…
https://t.co/DXeydEJY36