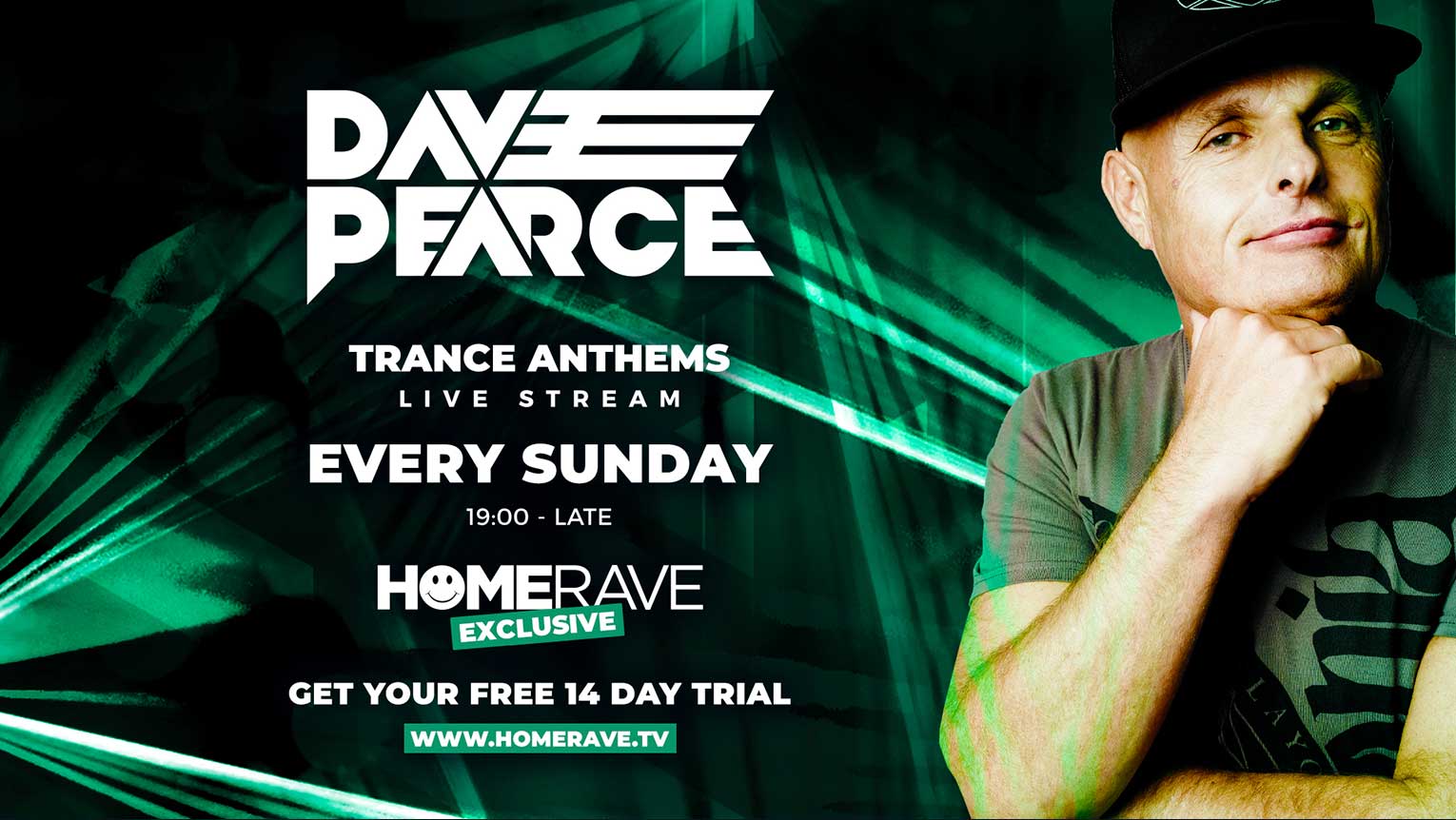 Weekly Message - Feb 18 2021
Hi Everyone - Hope you are doing ok
Just to update all my tour dates are currently cancelled , postponed or on hold due to the pandemic for 2021
Thanks to those who have joined me for my Sunday night sessions at HomeRave.tv - Details below
Given that our industry has collapsed and not been supported by the Govt things have been very challenging both financially and mentally for the past 11 months.
Rather than giving up I've signed up to join a bunch of DJ's who have created a new online experience
HomeRave.TV
- In a way it is like a virtual nightclub. There is one room playing Hard Dance with Rob Tissera, Slipmatt will be taking care of all things Rave, Paul Taylor is doing Retro, Jamie Duggan is doing Base and I'm doing my Trance Anthems livestream Sunday nights at 7pm. Obviously things are at an early stage and I'm sure there will be a few glitches along the way but with hope and perseverance hopefully we can build something which at least fills a bit of the void in our lives right now. If you want to come and watch the shows, It is just over one pound a week - It is £4.99 a month - you can sign up for a free trial at HomeRave.TV. We have a live chat section so you can join the community.
Here are a few FAQ
Q
- How much is it?
A
-Home Rave uses a Netflix style model to offer value for money.
The platform is priced at £4.99 per month and that gives you access to every stream and DJ on the site as well as catch up. This is very different to other alternatives which price per artist.
Q
- Is there a trial and it is easy to cancel?
A
- There is a three day trial and you can cancel at any time easily inside the billing section of your account.
Q-
Are my details secure?
A
- Of course. Home Rave works with market leader Stripe to offer a secure service.
Q
- Is there an App?
A
-The catch up app will be on the app store within the coming weeks and has all been approved and tested on iOS, Android, Roku, Apple TV and Fire TV.
The
site has been used as a web app so far and has run great. The web app will work on most devices and TV's although we cant guarantee it on all.
Most
users cast from their phones to their smart TV for an optimum viewing experience.
Q
- Can we chat?
A
- Absolutely. The chat is the key part of our site and is moderated to ensure a safe and enjoyable experience.
Q
- Can we catch up?
A
- Yes. Sets will be available the next day.
Q
- Is there support?
A
- The site has a Support/FAQ page as well as email support.
Q
- I am an artist and noticed my tracks been played. I am registered with PRS. How do I get royalties?
A
- Home Rave will use a Shazam style software called AC3 Cloud which tags tracks played after shows have gone out. This is then sent to a database and when the audits are due will be sent to the PRS who then distribute accordingly.
https://www.youtube.com/c/DavePearceOfficial/videos
. Also on Twitch TV at:
https://www.twitch.tv/davepearceofficial
.
My Delirium upfront Trance show is available on Apple Podcasts and on Mixcloud - when we can we will try and stream a replay on Tuesday nights at 8pm on YouTube at
DavePearceOfficial
.
Don't miss my Delirium podcast with Metta&Glyde in the mix
Apple Podcasts
and
Mixcloud
.
Follow me on Social media at
Twitter
,
Facebook
and
Instagram
---
If you are a promoter interested in making a booking message here: dpearcebookings@gmail.com
Trance Tuesday - catch a rewind of my Delirium Trance show tonight 8pm on YoutubeDavePearceOfficial DELIRIUM EPISOD…
https://t.co/9FtsjjzE5i