Live & Remastered
11/10/2011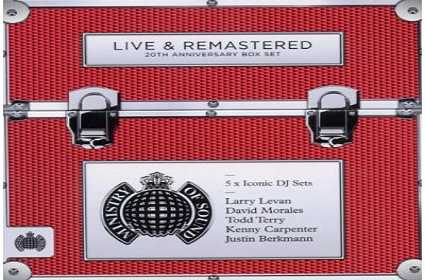 On 21 September 1991 one of the most famous nightclubs in the world opened for the first time.
Twenty years later Ministry of Sound has become an iconic brand incorporating a nightclub, record label and multimedia entertainment business.

Ministry of Sound have celebrated their 20 year anniversary by releasing a new Live and Remastered CD box set.

It features 5 dj sets from some of the biggest names to have played at the club including Larry Levan, David Morales, Todd Terry, Kenny Carpenter and Justin Berkmann.

The original license holders for the tracks played in each set have been tracked down and the music cleared. This in itself is a huge undertaking and achievement.

These live recordings have now been digitally remastered so the sets can be heard for the first time in nearly 2 decades.

Live & Remastered 20th anniversary box set is out now on Ministry of Sound.
Ministry of Sound