Hard core
22/01/2010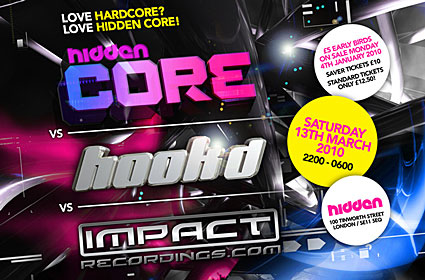 On Saturday 13 March some of the top names in hard music are playing a special night at Hidden in London.
Hard core Hidden Core are taking over things in Arena 1. Hard house brand Hook'd are hosting Arena 2 and hard trance label Impact Recordings are taking care of things in Arena 3.

The night will raise money for two great charities: The British Heart Foundation and The Albert Kennedy Trust.

DJs on the decks include Squad-E, Dougal, Andy Farley, Adrenaline Department and Phil Reynolds.

Tickets are available via the link below.
Think you are hard?