Hed Kandi: Pure Kandi
27/11/2009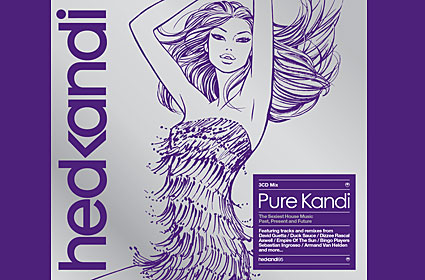 Pure Kandi is a new compilation album celebrating 10 years of Hed Kandi being one of the most glamorous and adored house music brands in the world.
This triple album is an unofficial musical journey through Hed Kandi history from 1999 to the present day.

It celebrates over 5 million album sales worldwide plus the thousands of events hosted by Hed Kandi in over 50 countries across the globe.

CD 1 starts with the massive hit by David Guetta - When Love Takes Over and presents work by artists such as Solitaire, Sean Biddle, and Joey Negro.

CD 2 launches with Calvin Harris and presents talent such as Dizzee Rascal, Armand van Helden, Wamdue Project and ATFC.

CD 3 features work by Sebastian Ingrosso, Mark Knight and Bingo Players plus the smash summer hit by Medina - You and I.

Pure Kandi is a trip through the past and present dance floor tracks which have been the soundtrack to your life over the last decade.

It's out on 30 November in physical and download formats.
Pure Hed Kandi