Goodgreef Xtra Hard
11/08/2009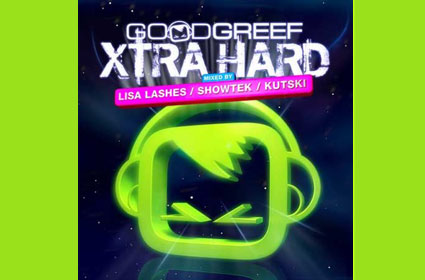 Xtra Hard is the new compilation from leading UK clubbing brand Goodgreef.
The album has been mixed by heavyweight scene djs Lisa Lashes, Showtek, and Kutski.

Goodgreef have been staging storming parties for the last 8 years as well as running their own festivals – Parklife, Atomik Weekender and Isle Life – plus hosting arenas at some of the biggest events in the UK.

The compilation is made up of 3 cds:

CD1 is mixed by the queen of hard dance Lisa Lashes. She kicks off with her own Sex Drugs Rock & Roll intro and launches into a selection of tracks from Scott Attrill, Organ Donors, Illogik, and Dark By Design.

CD2 is mixed by Dutch duo Showtek who have recently collected a host of awards as well as selling out solo events in LA, the Netherlands, and Sydney.

CD3 is by Kutski, the only remaining hard dance and hard-core representative on Radio 1. Famed for his 3 deck mixing, a Kutski set incorporates different musical styles as well as dj-ing techniques. On this cd he features his own Turntable Junkie intro as well as tracks by Mr Sam, 4 Strings, BK & Vinyl Groover, and DJ Norman.

Over the next few months there will be a worldwide tour to support release of the album. It will visit the UK, Ibiza, Cyprus, Majorca, and Canada ending with a massive party at Matter in London in November.

Goodgreef – a new album and a worldwide tour proving it's still top of the game.

Get Xtra Hard