Introspection
28/07/2009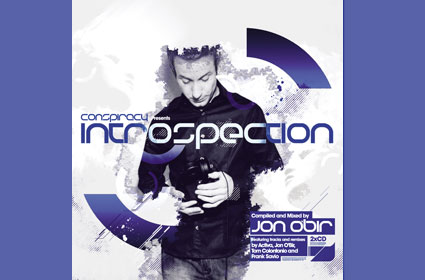 Conspiracy presents Introspection is the new double album compiled and mixed by Jon O'Bir.
Jon has carved out a respected niche in the UK trance scene since winning a prestigious competition run by Passion and M8 Magazine in 2002.

He has gone on to work at Godskitchen, provided an Essential Mix, been part of Radio 1's The Residency, and launched his own successful Ways & Means radio show.

On the production side his artist album – From Within- was released on Paul van Dyk's Vandit label in 2008.

He also heads up Conspiracy Recordings which releases many highly precious trance treasures.

And now comes Introspection.

The opening track – Central State by Frank Savio – is all about big room trance which hits you in the stomach and forces one arm into the air to mark out the beat.

By track four I defy you not to be dancing. Peter Martijn Wijnia pres. Majesta – Not The End (original mix) has one of those 'ripple down your back' moments anyone into trance knows well and beautifully teases modulating between major and minor keys.

It leads into one of my favourite tracks on disc one which is producer Rob Stevenson in his Solar Movement guise. Under The Sun is one to close your eyes to and just float away…

If you like your trance bouncy the excellent Sean Tyas remix of Kai Del Noi's Beyond Doubt is the next notable moment. If you missed it when this was first released it sits well in the middle of this disc and shows real quality.

Disc two opens with the nice introduction to Anton Firtich's Rain Over The Ocean which marks a funkier twist to the second half of this compilation.

The pace is slower but no less euphoric as we move through tracks from Andy Tau, Sequentia, Niklas Grosswald, and Mike Emery.

The outstanding track of this disc is Tiberium by Neil Scarborough which takes us into harder territory and is one of the most exciting new releases by Conspiracy over recent months.

Another sparkling jewel is The Last Testament by DJ Ange. If you want pulsating and energetic driving trance look no further than this excellent track by Angela Dickinson.

At just under two minutes, White Island by Simon Hunt is a short representation of this new young artist but it's a quality slice of his work and melds into some classic trance moments provided by Colliding Circles by Ian Betts and Dan Stone.

The final track has been written and produced by Dave Prodygee, Sean Tyas, and Lawrence Palmer with a remix and additional production from talented Giuseppe Ottaviani. It brings the disc to a stylish close.

Rest assured there are some truly notable tracks on this compilation so if you want to know the state of trance as represented by a UK label you should definitely buy it. It proves Jon O'Bir and Conspiracy Recordings to be in the rudest of health.

Conspiracy presents Introspection is out on Monday 17 August 2009.

More from Jon O'Bir