Tidy At Home
23/04/2009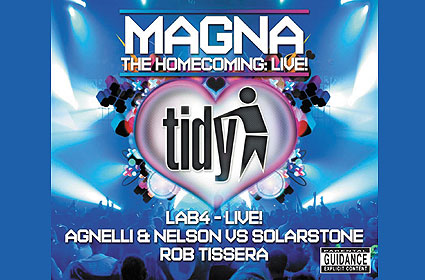 Last year, over 4,000 clubbers descended on a converted steel works in Sheffield for a night of hedonistic hard dance clubbing.
The new album - Magna The Homecoming: Live - is a celebration of that night and was recorded live at the event.

Disc 1 features the European industrial sounds of Lab 4 and includes exclusive re-edits of Candyman, Concept Of Love, and Requiem along with brand new material.

Disc 2 showcases the Tidy debut of international trance artists Agnelli & Nelson and Solarstone and includes tracks from Giuseppe Ottaviani, Armin van Buuren, Sean Tyas, Simon Patterson, and John O'Callaghan played during the set.

Disc 3 is all about hard dance fanatic Rob Tissera and his trademark sound, which is guaranteed to satisfy the demanding Tidy faithful.

Magna The Homecoming Live is released on Monday 27 April.

Be Tidy!