Tidy Stand Alone
21/11/2008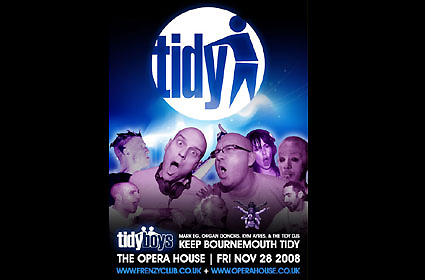 On Friday 28 November 2008 Tidy are hosting their very own stand alone event at The Opera House in Bournemouth.
In the main room, The Tidy Boys will be supported by a stellar cast of hard house, hard dance, and hard style acts including Mark EG, Organ Donors, The Tidy djs, and Kym Ayres.

In room 2 there will be hard dance classics and bounce from Caz Wood, DJ Wilma, Cheeky Scott, DJ Discam and Carl Phoenix.

Doors open at 9pm and entry is £12 in advance via 08701 98 98 98 or www.ticketweb.co.uk and www.dontstayin.com.

Create an Opera