Be afraid, be very afraid
28/10/2008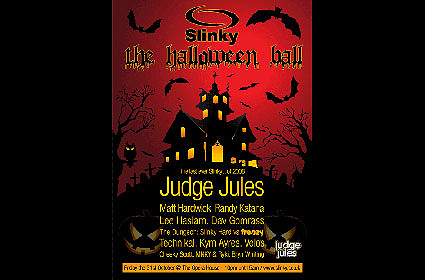 Friday 31 October is the last ever Slinky – of 2008. As it's Halloween they have put on a scarily good line-up with some frenzied hard stuff in the dungeon.
Judge Jules, Matt Hardwick, and Randy Katana will be headlining the Halloween Ball at The Opera House in Bournemouth.

Technikal, Velos, and Helen G will be providing the frights down below.

Advance tickets are nearly sold out and Slinky recommend buying in advance to avoid disappointment.

Purchase via the Box Office on 08701 98 98 98 or any of the usual outlets or online via the link below.

Dare you attend?

Come under Slinky's spell