Fresh from the deep
08/08/2008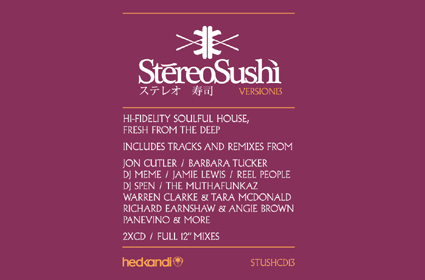 Take your places for another meal with Stereo Sushi. This is version 13 of their feast of hi-fidelity, soulful music fresh from the deep.
Once again, the talented Si Scott has produced another beautiful hand-drawn illustration to grace the packaging.

Stereo Sushi version 13 serves up 24 tracks from the likes of Barbara Tucker, Jamie Lewis, DJ Spen, Warren Clarke, and others from the kitchen of soulful house.

Served over 2 courses, Stereo Sushi version 13 looks very tasty indeed.
Nibble on Stereo Sushi