Tiesto sells out the O2 Arena
06/08/2008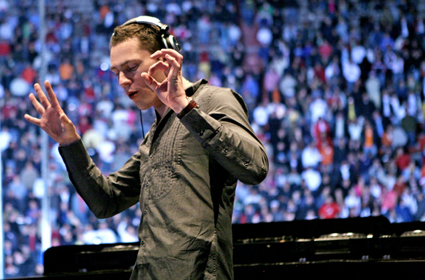 There are no tickets left to see DJ Tiesto on Friday 8 August as the 20,000 capacity venue has sold out.
The In Search Of Sunrise Summer Tour has already visited the States and Canada before stopping in London at the end of this week.

This will be Tiesto's biggest solo UK show to date and follows the launch of his massive Ibiza season at Privilege in July.

Before the show at the O2 Arena in Greenwich, Tiesto will be appearing at the Armani Exchange store in Bond Street. This is part of the strategic partnership between the DJ and fashion designer which has included tour sponsorship, clothing, in-store appearances, online content, and a limited edition 3-CD set sold exclusively at Armani Exchange and via www.armaniexchange.com.

During his set at the O2, Tiesto will play in the style of his recently released In Search Of Sunrise 7 – Asia album surrounded by state-of-the-art production and supported by First State and Airbase.

Tiesto