New faces of South West Four
01/08/2008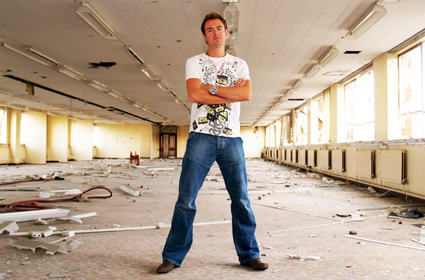 This tireless producer has mixed some of the biggest artists around from TiŽsto to Britney, Brian Eno to Avril Lavigne, Paul Oakenfold to Arthur Baker and he is due to appear at SW4 at the end of August.
Award-winning DJ and producer Andy Moor needs little introduction.

His music has seen him win the accolades of Best Trance Producer and Best Trance Track at the 2004 Trance Awards as well as Best Dance Record at the 2006 International Dance Music Awards and a Grammy nomination in for his remix of Delerium Ė Angelicus in 2007.

A relentless international tour schedule sees him sit comfortably at No.30 in the DJ Magazine Top 100 Poll, yet this man is happier sat in the studio than spinning in clubs.

SW4 caught up with Andy, one of the new faces of the festival, to find out more:

This is your first performance at South West Four where youíll be performing on the Time Out/Gallery/HeatUK Stage, are you looking forward to the event and what have you heard?

Iím really looking forward to it, definitely one of the UK highlights this year. Itís got a reputation for being the kind of festival that is all about the music rather than something thatís all hype and no substance. My meteorological guess work tells me that the British summer will start that weekend so itís going to be extra special!

You decided at an early point in your life that dance music/DJing/production was what you wanted to do, can you tell us the point when you realised this?

There was never an actual moment. I was a typical kid who wanted to be something different every week so I kept an interest in many things. After hearing early electronic music and realising that it is something I could actually work towards, I pursued a musical education at the cost of my ďcoolnessĒ.

Production is perhaps the key skill to any person who wants to break through the ranks, whatís your advice to new DJs / producers out there?

I think most people need to concentrate on their actual skills, knowledge and application before they even consider their PR work. Unfortunately, to be successful these days requires too much talking about yourself and less about actual substance. Personally I would ignore that side of the industry and be as good as you can, then you will get attention based on what you are doing rather than how good you can talk about stuff.

Are you a professionally or self taught producer? Which would you advise is best?

Iím self-taught in all practical aspects and still contain some knowledge from my studies which is not totally relevant, although this is dieing off with every kick drum! Iím not sure there is a ďbestĒ way to be taught, it depends on what type of person you are.

As a producer itís important to learn the principles of why things happen, and why certain pieces of equipment/plugins do what they do.

As a DJ I struggle to understand how this can be taught professionally - although judging by the amount of courses it obviously can!. I think DJing is natural. It is dependent on your rhythm, natural musical ability, your judgement (crowd, situations) and your own musical taste. How you can teach these I donít really know.

What are the key elements you feel are important when writing a new track / remix?

I think the most important thing is getting the right combination of the elements, how everything interacts with each other. I try to combine a lot in each track, from music to production, from drive to groove, so itís important for me to work on each sound in relation to the next. Itís important to think ahead.

Who or what inspires you when you are in the studio?

I get inspired mainly by music, either the music of other people or something that I am working on. For me inspiration is motivation and vice versa. If I can get motivated then Iím instantly inspired so just doing some exercise will give me motivation and a clear head to get inspired.

How do you utilise the Internet and do you feel it is important as an artist?

It is important for people to find out what you are doing, but I think it can also be a hindrance at times as it is so easy to get sidetracked.

As a person, in an extremely fast moving and technical industry, itís a tool that is extremely necessary and itís hard to imagine being able to do what I do without it.

Tell us whatís happening with AVA Recordings at present, what releases are on the horizon?

We released our first artist album this year (Orkidea Ė Metaverse) which has gone extremely well and currently there is Jody Wisternoffís remix of Metaverse from this album on promo.

Split between AVA and AVA Blue, we have my own album to come and tracks/remixes from artists such as Tydi, Ashley Wallbridge, Niklas Harding, Hawk and Vadim Soloviev to name a few. There is also a mix CD series to come later in the year.

You are playing all over the globe. Whereís you favourite country to perform at the moment and why?

This is one of the most asked questions yet itís never a straight-forward answer. Every part of the world has its own reasons for being a great place to play. South America and Eastern Europe are among my favourite places at the moment because the crowds are so enthusiastic and there are so many people who live and breathe the music.

With so many achievements and accolades under your belt, what is next on your agenda?

Iím working hard on finishing my artist album, although Iím getting too picky in my old age and itís taking a lot longer than I predicted. Touring takes a lot out of you physically and mentally so Iím always looking for the right balance between touring and studio work. A lot of DJs seem to almost stop producing when they become in demand as DJs but I donít want that to happen.

You can catch Andy playing on the Gallery / HeatUK Stage at the South West Four festival, set to take place on Clapham Common in London on Bank Holiday Saturday 23rd August.

Carl Cox, Erick Morillo, John Digweed, Sven Vath, Danny Tenaglia, Armin Van Buuren, Francois K, Fedde Le Grand, Nic Fanciulli, Tiesfschwarz, Sander Van Doorn, Claude Von Stroke, Sister Bliss, Green Velvet, Layo & Bushwacka, Markus Schulz, Paolo Mojo, SOS, Andy Moor, Gavyn Mytchel, Jon Rundell, Anil Chawla, Roastgroove (live) Aaron Baskerville, Sarah Holder and are all due to appear.


South West Four