Dave to play the Tidy Weekender
03/07/2008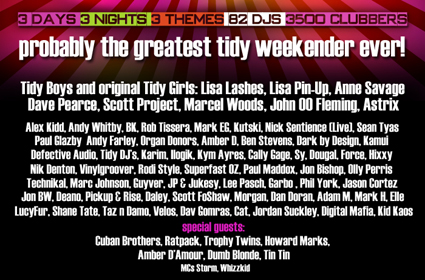 Dave is on the line-up to play the next Tidy Weekender on 3/4/5 October at Pontins Holiday Centre in Prestatyn.
Hold on tight as the 3 best Tidy weekender themes are rolled into a 3 day party.

Friday is bootcamp. Saturday is dirty. Sunday is a school romp.

The Tidy Boys and the original Tidy Girls are on the decks.

Scott Project, Marcel Woods, John 00 Fleming, Astrix, Alex Kidd, Andy Whitby, BK, Rob Tissera, and many others will be mashing things up during what will probably be the greatest Tidy Weekender ever!

3 days, 3 nights, 3 themes, 82 djs, and 3,500 clubbers.

Are you going to be there?
TW15 - not to be missed