Cherished memories with Slinky
02/07/2008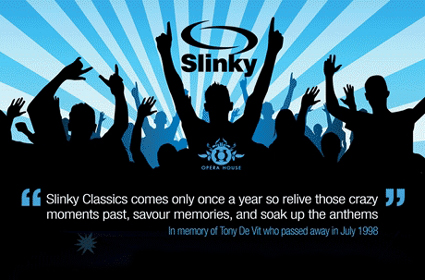 Superclub Slinky are reliving moments past and savouring cherished memories during a classics night on Friday 25 July.
The night will be held in memory of dj legend Tony De Vit, who died in July 1998.

Agnelli & Nelson, Lost Witness, and Lee Haslam will be hitting the decks in the main room.

In the Totally TDV room Ian M, Kym Ayres, and Velos will be celebrating the life and work of a remarkable dj.

£8 members/£10 in advance/£12 on the door.

Tickets can be bought right now at www.operahouse.co.uk, www.dontstayin.com, www.ticketweb.co.uk or via 08701 98 98 98 or 08700 340 380.
Get your tickets now