Dave launches Advanced + Tidy
18/06/2008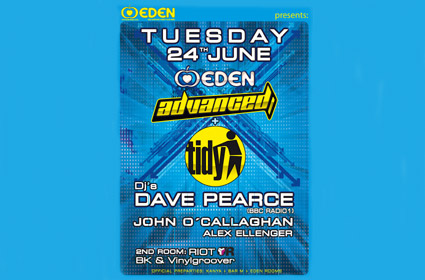 Dave has launched his summer 2008 residency at Eden in San Antonio, Ibiza.

Celebrating 10 years of weekly residencies at Eden in Ibiza, Dave launched his massive series of Tuesday night parties on 3 June.

Advanced + Tidy brings the best of pure trance and hard dance to the main room at Eden with djs the Tidy Boys, Anne Savage, John O'Callaghan, Agnelli & Nelson, Andy Whitby, and Alex Kidd as special guests.

Room 2 features a selection of the UK's finest underground promoters including Polysexual, Frantic, Boutique, and Riot to make this the most energetic dance night on the island.

Dave said: "Over the last ten years I've hooked up with Euphoria, Slinky, and Gatecrasher and now we have stepped things up joining forces with the undisputed kings of hard dance the Tidy Boys and the Tidy crew."

"DJs including Anne Savage, John O'Callaghan, and Agnelli & Nelson are amongst the names who will be building the night on a trance vibe with me. Then, as the night moves on, we go on a journey with a transition through trance, hard trance, and hard dance."

"It will be awesome having Tidy Boys and Anne Savage joining us to create a really pumping vibe. The whole night is programmed to take people on a musical and energy building journey."

"To celebrate my 10 years on the island I'll be dropping a few trademark anthems from the last decade to make this a party not to forget."

Andy Pickles from the Tidy Boys said: "This year is going to be the best yet!"
Read our new interview with Anne Savage