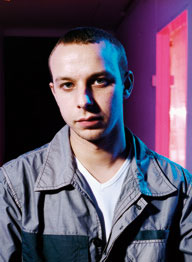 "One of the most exciting producers and DJs in the hard dance scene today" – Mixmag
Scott Lee, aka Vinylgroover, is hot property. His widely anticipated new track – Midnight Express – has been played by Judge Jules 4 weeks in a row and BK says of him: "Vinylgroover always comes up with the goods. There are always some of his tracks in my box; they are always banging; production of the tracks is excellent and they are always a bit different. Wicked!!" Before his new tune comes out and he gets very busy indeed I spoke to Scott.
Where did the name Vinylgroover come from?
The name came about in 1992. Me and my friends were all djs and one afternoon we were just sitting around coming up with names. I thought Vinylgroover was pretty cool so it just stuck from that point.
You came onto the dance/rave scene in early 1994. What was your route into the scene?
I got involved in the scene through my friend's parents who were really good friends with Frankie "shag" Bones and the Rhythm Doctor! They used to send us down loads of promos and stuff and we would be on the decks 24/7. I went to Vision at Popham Airfield (now site of Homelands) in the early 1990's watching Sasha, JD, Slipmatt etc and it blew me away. I looked up at the djs and thought I want to be the guy up there. This is what I want to do and from that moment I was totally hooked.
Is it true you started on the decks at 13?
Yes I did. I was doing stuff in local youth clubs playing tracks like French Kiss and Cry Sisco. It was an excellent time. There was a buzz all over the country about all the music and it felt really special to be a part of it. I got my first professional gig at Sterns in Worthing – thanks to a little help from Carl Cox.
You work as a DJ/Producer. How would you describe your 'sound'?
I would describe my sound as hard dance, around 2000 it was pretty much hard house, but I love trance too and wanted to keep a tougher edge to it so it progressed from there.
You met DJ Ramos at Fusion Records in Portsmouth and ended up working in the shop. What did this teach you about the industry?
Working at Fusion Records in Portsmouth was so important. I got to meet so many people involved in the scene, from DJs and promoters to distributors and the like. It was the perfect way to see how it all worked and also allowed me to find some awesome tracks at the same time. I left school at 15 to take the job there and only got paid £30 a week (and that I took home in records). My parents were not too impressed to say the least!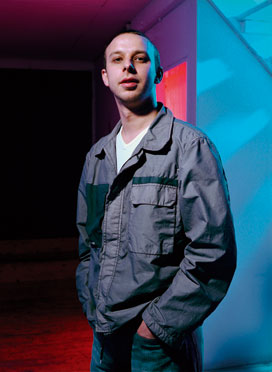 When and how did you become involved with Nukleuz?
I became involved with Nukleuz records around late 1999/2000. I was on tour in Canada and met up with BK. We had a riot doing some big party in Edmonton and Ben heard me play and said you should come and work with us at Nukleuz. Again it was an extremely exciting time for the scene and I wanted to be involved so as soon as we got back I joined the team.
Your Nukleuz debut – Move your body – with The RedHead became a hardhouse anthem. Were you surprised by the reception the record got?
I was a little surprised to be honest. I really liked the track and loved the fact that it had some real old-school stabs in there. I sent it to BK the day after we did it and he was raving about the track. The same day Nukleuz called and the deal was done. It made the national top 60 which was great for a real underground track. It also opened a lot up for us too. I was hearing it everywhere I went from LA to London to Ibiza so it was a nice feeling.
Stay was a collaboration with Rob Tissera (released on 5 June). How did the record come about?
Stay came about just from phone conversations with Rob. He loved the Vinylgroover/RedHead mix of Show Me A Sign that was out on NuLife in summer 2003 and called me about it. We got on really well and it went from there. We had such a good time making the track that we are back in the studio over the next few months doing the follow up!
What does the future hold for Vinylgroover as a Producer?
There are a number of tracks waiting to be released at the moment. The next one is Midnight Express which seems to be going crazy at the moment. Jules has played it 4 weeks in a row for us which has led to the phone being off the hook from everyone trying to get hold of it! This will be released soon with Split/BMG. Also, we have done a very large mix of Sweet Dreams (the Eurthymics) which is going down well in clubland. This will be a major release with NuLife. We are also working on projects with Intensive and Tidy Trax so there is a lot happening. We have also just started a project called Lupe which is still going to be tough but with a cool funky twist so can't wait for that to be released too.
What does the future hold for you as a DJ?
On the DJ front things are really starting to go well. I will be doing regular slots at Tranzaction and Slip Back in Time as well as forthcoming dates for Goodgreef, the Honey Club, Tidy Events and more around the UK as well as my residency at Decadance in Portsmouth. Also I will be touring Australia, the USA and Canada later in the year.
Looks like Vinylgroover has been and will be busy! Watch out for him at an event near you in the future and look out for Midnight Express and Sweet Dreams – coming soon!
Interview by Daniel Slipper