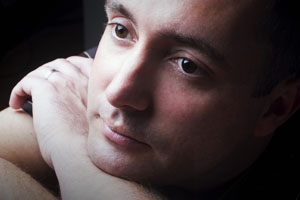 Thrillseekers - Synaesthesia probably counts among the top ten tracks of all time for many dance fans. It was produced by Steve Helstrip aka Thrillseekers back in 1999. Steve recently embarked on a massive world tour to publicise his latest compilation album Night Music Vol. 2. In a rare period of time in the UK I met up with him to find out about his latest project

.

1. The Thrillseekers story started in 1999 with your classic track Synaesthesia. Is it true you produced this using a basic home studio?

About as basic as they come, yes! Equipped with only a modest sequencer (by today's standards, anyway), a sampler, a few effects and a Roland JP-8000 synthesizer. 90 percent of that track was made with this synth. Each sound was created from scratch pretty much and tirelessly recorded into the sequencer part by part.

The main theme or melody came very quickly (maybe 3 minutes after sitting down at the keyboard) and I knew I was onto something big. I spent a further 6 months tweaking, honing, and trying to make this sound as much like a proper record as I could.

2. After the staggering success of Synaesthesia how hard was it to produce a follow-up?

After Synaesthesia, the phone never seemed to stop ringing with labels requesting me to do remixes. I did 3 mixes for Chicane, Armin, and Tiesto and many other names around that time. The money being offered was too tempting to turn down at the time, so I focused my efforts into their projects. In hindsight, this was shortsighted as I ended up putting all my best ideas into their projects, which remixers often get little credit for.

My follow up to Synaesthesia (Dreaming Of You) was signed to Ministry Of Sound's Data label. It didn't quite top Synaesthesia but it still did really well, especially across the USA, where it's often the most requested track when I play.

3. In 2003 you set up your own label - Adjusted Music. How did this come about?

I was ripped off many times by labels who never paid royalties or went into liquidation taking my money with them. The only way for me to take control of my finances was to do everything in-house. After regaining control of Synaesthesia, I re-released the track with a new mix from Ferry Corsten (among others) and started to sign new artists to the label. Everything I do now comes out on my Adjusted label.

4. As well as producing your own tracks you have worked as part of some notable collaborations. Can you tell us about those?

I wrote and produced a track with Ferry Corsten, called Sublime, for his 'Right Of Way' album, and collaborated with Andy Perring under a project called Insigma. We had a reasonably big club hit with a track called 'Open Our Eyes'. It followed a very similar route as Synaesthesia, being included on all the biggest compilations and gaining support from the likes of PVD, Tiesto and Oakenfold. I also produced with now label partner Tim Stark, under the alias Rapid Eye.

5. In late 2005 you released the first Night Music Compilation. Why did you start releasing compilations?

Most DJ/Producers start out DJing before getting into production. I came purely from a production background and only started DJing shortly after Synaesthesia started to get noticed. The compilation was really to showcase my style of DJing, and to promote my Night Music brand, which I'm currently touring with. Night Music Volume 2 has just been released. I have a dedicated Night Music website, which can be accessed through www.thethrillseekers.co.uk

6. In 2006 you made the Top 50 in DJ Magazine's Top 100 DJs. When did you start dj-ing?

The DJing really kicked off after I signed to the Connected DJs agency in 2001. It took me a few years to get really confident in what I was doing but things moved forward very quickly.

7. Night Music Vol 2 has been released recently. What was it like putting together another double album?

Great fun! Disc 1 is really the very latest, upfront music that I've been able to get my hands on. It starts off with the new single 'Waiting Here For You' which is quite laid back by my usual standards, and progresses through pretty much every sub genre of trance imaginable before reaching the killer peak time anthems that have had such devastating effect in my sets of late.

Disc 2 looks back over the past 12 months and contains some of the biggest tracks that have dominated my sets. I started out with a list of 30 records that I wanted to include but half had to be dropped in order to create a cohesive mix that evolves and demonstrates the different styles I play. If you're looking for one sound-alike track after another, then Night Music isn't for you. Instead, I approached the track selection in such a way that the flow of the album is more akin to an artist album. There are twists and turns on the way and each track will put you in a different place mentally and emotionally.

8. You are also embarking on a massive world tour to promote the album. Where are you heading?

Oh, pretty much everywhere! The tour kicked-off in the USA, with gigs in LA and San Francisco. Then it was on to Central and South America, Europe, China and I finish up in Australia in September.

9. Am I right in thinking there is also a new single?

You are indeed! I teamed up with a fantastic vocalist/song writer from LA called Aruna. We wrote 'Waiting Here For You' as the lead track on Night Music Volume 2. Dave's been giving it a lot of support on Dance Anthems, which we're massively grateful for. There are some killer remixes on the way from Breakfast, Terry Ferminal, Aly & Fila, Santiago Nino and Hydroid.

10. Once you have recovered from the tour what does the rest of 2007 hold?

I'll be working on material for my artist album, which if all goes to plan, will be hitting the shops some time after February next year. It's very difficult to get any meaningful time in the studio with such a hectic DJ schedule but I have a few weeks off, here and there, to get things moving along. I have 7 tracks complete so far, so we're nearly there.

It would be nice to squeeze a holiday in somewhere as well, but jumping on another flight to a foreign destination feels more like work these days. Maybe I'll have a week in Blackpool when time allows.
Listen out for the new single Waiting Here For You on Dance Anthems on Radio 1 every Sunday from 19.00. Also, make sure you get your hands on a copy of Night Music Vol 2 as soon as you can!
Interview by Daniel Slipper