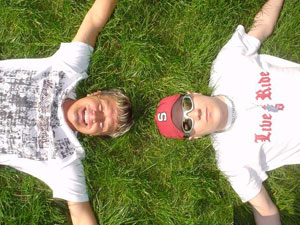 Without doubt, The Sharp Boys are something of a music industry institution.

Two years ago George and Steven celebrated some 10 years in the business but 2007 sees them as fresh and sharp as ever. Not only can they produce successful remixes, but they are amazing djs, and somehow also find time to run their own record label. You can keep up with them at www.sharprecordings.co.uk but recently I found time to catch up on their past, busy present, and exciting future.

1. How did you both start out in the music business?

S: George was Dj'ing all over London including Heaven when I met him at a Sunday night club at Turnmills called FF in 1992. I was working as an assistant to the manager of The Eurythmics studio The Church in North London at the time. It was an amazing place to be. You never knew who was going to walk through the door next from Blur to Paul Oakenfold. In dance music my first break was becoming a tea boy at React Music Limited in 1992, I worked really hard and left 3 years later as the Head of PR and TV Promotions to start Sharp Recordings with George.

2. You are known for your reworking of over 300 artists including 7 national UK no. 1s. Who did you most enjoy working with?

G: We are probably most proud of 3 key remixes and productions from our career. When we were approached to remix Baby One More Time for Britney she was still at school and although we knew it was a genius pop single what happened next took everyone involved in the project by surprise. It has sold over 10 million copies around the world to date and we are very proud of playing a small part in its success. Next up is the Minogue sisters; what Kylie and Dannii do for pop is something else. We have mixed Dannii 3 times (plus interviewed her for Kiss) and Kylie twice. They are the sweetest girls in the world. Finally we made a record with the wonderful Denise Van Outen a few years ago and she was a pleasure to work with. After one session we drove her home and she sat on Steven's lap in our Z3 and as we stopped at traffic lights loads of school boys shouted out her name! She has total star quality and her achievements on the stage are testament to her talent.

3. You conceived Sharp Recordings in the summer of 1994 and then launched at the end of that year. Why did you decide to start your own label?

S: Whilst I was working at React Music Limited I listened and learnt how the fundamental parts of a record company operated. By the end of 1994 George and I wanted to have a crack at doing our own thing and with the knowledge of my time with James Horrocks and Thomas Foley at React I felt we could set up our own imprint and have a go. Two of our first five releases (Cool Jack & Sara Parker) got picked up by majors which was great for us.

4. Who were your influences as you developed your 'sound'?

G: When we started the label we were both highly into the US house scene and producers such as Dj Sneak, Armand Van Helden, Ralphi Rosario, Erick Morillo and Todd Terry - tuff beats incorporating tribal percussion and disco elements. We decided to take on these influences and put a UK slant on the style. The name Sharp is my middle name and it described our sound perfectly – crisp hi hats and clean drum loops set against a driving bassline. It's funny how the music we are producing now almost goes back to our initial roots – it's all about the bassline today as it was then!

5. In the summer of 1996 you joined together as a dj team for the first time. What prompted this move?

S: We had Dj'ed separately all over the London club scene up until when Laurence Malice from Trade invited us to play together in his Trade Tent at Gay Pride. The Sharp Boys name is actually credited to Andy Thompson who was running the VC label at Virgin and listed our remix of Wham Bam by The Candy Girls by The Sharp Boys. The name stuck for productions and from then on we Dj'ed as a duo under The Sharp Boys guise.

6. By 1997 you were dj-ing all over the world and in the UK were very much part of the legendary Sunday morning afterhours phenomenon that was Trade. How did you get involved and why did you launch Trade Lite?

G: Trade was a club scene institution in 1997, as the morning passed the music on the main floor would get harder and harder, but the increasing popularity of funky house was being overlooked so between Laurence Malice (Trade's promoter) and us we decided to try out a new second room. Turnmills was also ever evolving at the time and we in fact started Trade Lite in an upstairs coat check to about 100 people. We were residents at Heaven on Saturday nights so we would arrive at Turnmills at around 5:30am to start Dj'ing at 6am. Within a couple of weeks people were sitting on the floor literally screaming for us to start playing on arrival. It was an amazing atmosphere. A few months in and the room was getting so busy that we had to have a member of security at the base of the staircase to limit the numbers entering the room! It was then decided to take over one of the back rooms at the venue until the new T2 room was completed and its popularity simply grew and grew. We decided to resign on the 5th Birthday of Trade Lite to head to Vauxhall and help launch Beyond at The Collosseum. By this time tuff funky house was where it was at and Beyond decided to put this sound in the big arena which was a brave but calculated move.

7. You are also responsible for running some amazing and well-known nights including Royal House at Heaven and Anarchy at The Fridge. Which nights are you currently involved with?

S: Anarchy was an amazing experience. I am very proud of what we achieved with the club in the six months we were in business. The press was fantastic with MixMag listing it as No.1 Club In London; Critics Choice in Time Out and even Club Of The Week in The Independent. We had flyers shaped like 7" singles, projections of the heroes and fashion of the punk era on walls through out the club, and a specially commissioned DVD at every event with footage of Westwood catwalk shows mixed with films like "The Filth & The Fury. It was about dressing up and many of the crowd did. Unfortunately it ended due to sabotage of a jealous rival promoter – who didn't like what we were achieving!

Royal House on the other hand is still going very strong. We devised it 5 years ago as a monthly party at Heaven and it is now our international Dj'ing brand that we have taken to Moscow, Switzerland, Paris, Belfast and Brighton. We are currently in discussion to do Royal House in Rio, Cardiff, and Edinburgh over the next few months so it's all good! Last December we returned to Heaven for a special 7½ hour main floor Saturday night set which was a huge success with over 2000 in attendance. The 5th Birthday Party will be at Heaven in the spring.

8. Apart from your own nights, where else can we catch you dj-ing?

G: Our weekend starts at A:M on Saturday mornings at Fire in Vauxhall. We tend to play most guest spots on Saturday nights at the likes of Smartie Partie at Turnmills, Sharp Fresh in Blackpool, Mission in Leeds or Funk Deluxe in Coaville. Then it's straight back to Vauxhall for Juicy and Later every Sunday; Orange on Monday mornings, and would you believe it Open every Tuesday morning! It launched in April last year and every Tuesday morning you can catch us on the main floor from 7am until midday!

9. I know you have some very exciting plans for the future. Can you reveal what they are?

S: We are in the final stages of negotiating a new US deal on our Maniac single. It is something we started working on with the original artist Michael Sembello some 2 years ago! We have just completed a new Sharp Boys 2007 Dub which is going down very well. Michael won a Grammy for the original release back in 1983 so hopefully we can re-establish it in America's consciousness.

On another note we are working on a new project with a co-producer which is shaping up very well. Remix wise we are about to rework a single from the forthcoming Marc Almond album which is incredible. Marc has covered Dusty Springfield's classic I Close My Eyes and Count to Ten and his version is immense – we can't wait!
The Sharp Boys night - Royal House - took place at Heaven in London on Easter Saturday (7 April) where they played an extended 7 hour set. You can catch them regularly in London, Blackpool, Leeds, and Coalville in Leicester. Also, look out for their fantastic new single coming soon.
Interview by Daniel Slipper