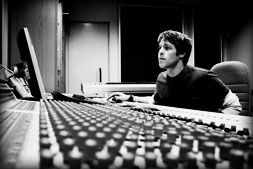 Picture taken by Lara Holmes

In 2004 Dave was sent a track which induced one of those moments when you know you are hearing something special. He went on to feature Spaced Out by Steve Birch several times on Dance Anthems and then created an unforgettable moment during Homelands 2004 when he played the track out of Underworld's Born Slippy. Since then Steve has been producing two artist albums which are out now. We interrupted his busy schedule to catch up with this emerging talent.
How did you start djing/producing?
It was around 1992 when I first discovered dance music at raves such as Dreamscape, Fusion and Fantazia to name but a few (and plenty of illegal ones as well!). In 1992 I got my first set of decks and in 1995 I found a programme called Tracker and began to teach myself how to write music. It was very basic and had little control over sounds but was very good fun.
Where were your first regular gigs?
I used to get my records from Movement Records in Southampton which is where James Zabellia and John Doe worked. My first regular gigs were shows hosted by James and John on local radio station Max FM. I also did a night in Bournemouth called Devotion a few times.
In 2002 you were awarded a business loan by The Prince's Trust. How did this come about?
I was in and out of jobs and spending all my spare time doing music. I inquired about The Prince's Trust loan to enable me to buy some more music equipment. I had to create a business plan and supply loads of information about music and the business. It took lots of time and research but was worth it in the end.
What was the inspiration for Spaced Out?
I love both psychedelic and euphoric elements of trance and wanted to make a sort of crossover track. Spaced Out was the result. In December 2003 I sent it to one of my favourite labels JOOF records (owned by John 00 Fleming) and it was signed in early 2004 and released in June 2004.
What has being signed to JOOF meant for you?
It has meant that locking myself in a room for 6/7 years only to venture out to go clubbing has finally paid off. It has been really cool producing music that I love for the best underground trance label and knowing that it is not just going to sit on my computer. John has been really great in giving advice and helping me push my career forward.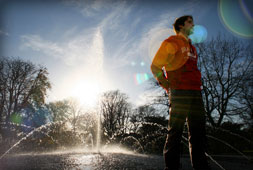 Picture taken by Lara Holmes
What have you been doing since producing Spaced Out?
I have been working on some more psychedelic and euphoric stuff and have had more tracks signed to JOOF. I ended up writing so much that John 00 Fleming suggested putting together two albums – the first CD being my more 'spaced out' sound and the second featuring more psychedelic experimental stuff. I have also been working on a project entitled The Summer Session which has been signed to Solarstone's Deep Blue Records.
How long has it taken to produce the albums?
I have been working on them since July 2004 so it has been over a year. I have also been working with Marcie (a vocalist from the US), Jon Mills (techno dj and producer), and local dj Dan Apss on various other projects. If I am not clubbing or djing I am in the studio. I can't remember the last time I went to the pub!
Where can we get hold of the albums?
Beatport, iTunes, Audiojelly, Chemical Records and Psy Shop.
What next for Steve Birch?
Loads more production and, hopefully, lots more gigs now promoters know my sound. I get so much inspiration when I am djing and can't wait to get back in the studio.
I have also got to finish a project I have written with my sister. It is a lovely vocal trancer called I Adore You.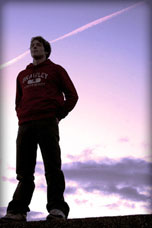 Picture taken by Lara Holmes
Steve Birch would like to thank all those who have supported him so far especially John 00 Fleming and Dave Pearce.
Remember, you saw his name here first!
Interview by Daniel Slipper