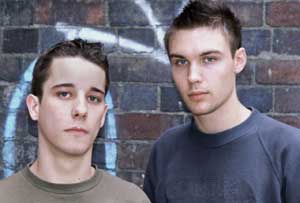 "If you haven't heard the buzz that has been building around Smith & Pledger over the past few months then hang your head in shame. Their confidently understated UK sound is already getting support from the likes of Armin van Buuren and John 00 Fleming and we reckon they're going to be one of the biggest things to come out of trance this year." (Mixmag, September 2003)
It is a just over a year since this comment appeared in Mixmag. To co-incide with their inclusion in the recently released and excellent Anjunabeats Vol 2 compilation CD I caught up with Oliver Smith and Mark Pledger to find out just how big 2004 has been for them so far.
Your debut single with Gatecrasher's Matt Hardwick – Day One – received support from DJs such as Ferry Corsten and John 00 Fleming and was awarded the titles of 'Future Favourites' and 'Tune of the Week' on Armin's radio show. How did the track come about?
Ever since the early days of Gatecrasher we have been into Matt's sound as a DJ. When some of our early tracks got to him he was keen to work with us so we thought we'd give it a go. Day One was the very first track we did with him so the collaboration obviously proved to be a good one! The follow up, Connected, also did well and we have been working on some more material with him recently.
Your first solo single – Forever – was described by iDJ as "a winner with all the right elements in the right places". How difficult was it to go it alone after your success with Matt Hardwick?
It never really felt like we were following up Day One as Forever was actually written two years before we had even met Matt. It began as an instrumental track which we later revisited and added vocals from Carrie Skipper. Our favourite mix of it is probably the Aspekt mix, which takes the vocals and adds a dreamy atmosphere to the tune and proved very popular with progressive DJs like Markus Schultz.
What happened next?
The track was supported by all the big DJ's and got some good reviews so we were very pleased with how it went down!
How did you become involved with Anjunabeats?
We met the Anjunabeats guys when we were at university together and have kept in contact ever since. When we first started working together we approached them with some of our tracks and have been putting things out on the label for the last few years…
As well as producing your own tracks you have worked on some notable remixes including: State One – Forever and a Day, Angel City – Love Me Right, and most recently Deepest Blue – Shooting Star. How did you get involved in these?
Normally the record labels approach us and ask us for a remix.
Your recent track – Believe – finds a well-deserved place on Anjunabeats Vol 2 alongside other Anjunabeats talent. What inspired the track?
Believe was actually the first track we wrote together. For the release we did a new 2004 remix to bring it up to date. We were inspired by some of the early Anjunabeats material and wanted to put our own spin on that sound…
As well as producing you are also building a reputation as DJs. Where have you been and where can we find you in the future?
The DJing has been going really well for us lately as we have been doing gigs all over the place. Recently we have played at Godskitchen and The Gallery a lot, as well as internationally. Check our web site at www.smithandpledger.com to find out where we'll be playing next!
So, do you feel like "one of the biggest things to come out of trance this year"?
It's always flattering to get a good review! We're just trying to make the best music we can…
What next for Smith & Pledger?
We've got some big tunes lined up for release in the next year and we'll also be carrying on with the DJing side of things at full speed! We've also got some great remixes coming out soon on Motion Records in the UK and Somatic Sense in Holland.
Along with Above & Beyond and others you seem to be holding your own with people like Paul van Dyk and Armin van Buuren. Do you think the future is bright for UK trance?
There are a lot of very talented producers and DJ's around at the moment and the UK can claim quite a few of them. We're certainly glad the trance scene seems to be doing well in the UK and it can only be good for the music!
Look out for Anjunabeats Vol 2 which features Smith & Pledger's Believe and for up-to-date news check out www.smithandpledger.com.
We have several copies of Anjunabeats Vol 2 to give away. To win, just email the first names of Smith & Pledger to daniel.slipper@davepearce.co.uk.
Interview by Daniel Slipper