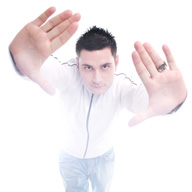 On Friday 31 August 2007, Dave's night – Delirium – returned to Ministry of Sound in London.

In the main trance room Dave was on the decks alongside Big Al and Sean Tyas.

Dave has supported Sean's work for some time and included his track Pacifier on his recent underground trance album.

Delirium proved to be an exciting night of the very latest in trance. In advance of the event I spoke to Sean about his career.
1. Am I right in thinking you are a native New Yorker?
Yes, I'm from Long Island, New York originally.
2. But you now live in Europe?
I first moved to Germany for 10 months and then to Switzerland. I have been living in Europe for almost 3 years or so.
3. So, how did it all start?
I guess when I got handed a tape of Apotheosis – O Fortuna from my uncle in about 1990. I fell in love with the sound which at the time was just universally named "techno" or "electronica". It took about 10 years of just listening until I worked up the courage to produce, but I finally purchased my first keyboard in 2000 and started to tinker around.
4. Firstly, you concentrated on production and by the age of 26 had remixed the likes of Christina Aguilera, Pink, Moby, Daniel Bedingfield, Christina Milian, and PPK. How did all this come about?
My first partner in the business was Seth Lawrence who at the time was A&R-ing for Tommy Boy Silver Records in NYC. It was that association which brought in the remixes/productions like Pink and Christina Aguilera. At this point they are so unlike what I'm doing now and quite frankly I'm not particularly proud of those projects, but it was nice to get my feet wet with that profile of artist.
5. How did you get started in dj-ing?
About the same time as starting to produce I got some decks and started buying vinyl and practicing.
6. You then moved to Europe and worked for DJ Bream in Germany. What did you do and what did it teach you?
I worked in Cologne as his engineer. Basically it was my first taste of doing music full time and all day. So, little things that were no big deal for me not to know before, all of a sudden became absolutely crucial in this new situation. It forced me to learn and stay on my toes I guess.
7. You then decided to concentrate on your own productions and were signed to John Askew's Discover label. How did you meet John?
The old fashioned way, I bombarded him with demos to his email :)
8. You also won Sander van Doorn's - Punk'd remix competition. What was that like?
Really cool! I actually didn't believe I had won the contest. The email notifying me was so nonchalant about it. But I felt really honoured when they said it was me out of over 250 entries. Unreal!
9. Throughout 2006/2007 you have been busy building your professional dj-ing career. Where can we catch you over the next few months?
I'll actually be returning to the UK quite a few times. On Friday 31 August I will be playing alongside Dave at Delirium at Ministry of Sound. Then on 1 September I will be at Unifi in Bathgate, Scotland, and on 14 September I will be at Digital Society in Leeds. I will also be going to Moscow in September to play for Crasher. I am really curious to see how that will be.
10. And what can we expect on the production front?
I am going to take a break from remixing for a bit. It's time to get busy with originals so I have started a couple of new ones.
Interview by Daniel Slipper