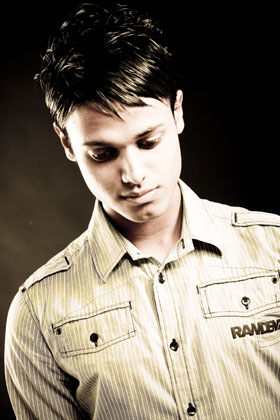 Sandro Silva is a fresh new production talent responsible for exciting new remixes of the classic Resurrection by PPK. I found out more about him:
Which part of Holland are you from?
I'm from the westside! I live near all the big cities like Amsterdam, Den Haag and Rotterdam.
When did you become interested in music?
At a very young age. By the time I was 5 I already had a guitar in my hand! Any time I saw a musical instrument I had to check it out straight away. It's like I had a GPS system for finding musical instruments, ha ha.
Which instruments do you play?
A bit of piano, the drums, and I have a guitar here in my studio.
When did you start your career in dance music?
I was producing dance music for a couple years before I got my first release at 15yrs old on an English record label. It had massive support from Paul van Dyk and other big trance dj's.
Who were your inspirations?
Roger Sanchez has been a big influence on my productions, especially with his track Another Chance. I also learned a lot from the tracks that Marcel Woods made, especially the way he created and arranged his productions technically. Leon Bolier and Cliff Coenraad also were big motivators for me back in the day with their solid beats and big melodies, I learned a lot from their productions. Tiesto has inspired me a lot and, of course, one of my biggest motivators Laidback Luke!
Is it true you were coached and supported by Laidback Luke?
Yes, Luke always had the time for me, despite his crazy schedule, to give feedback and to support me with everything! It all began with Prom Night. I sent this track to him a couple years ago and he loved it and released it on his record label with a remix from the man himself!
Which labels have you worked with so far?
I have worked with Tiger Records, New State Music, Dim Mak, One Love, MixMash, Southern Fried Records, Spinnin Records, Vicious, Taste/d Music, Sound Pellegrino and Secure Recordings.
What is coming up for you in 2011?
A lot! I've got so many new records ready to be released in 2011 - even some pop tracks on a very big record label. The next track after my latest release Resurrection will be Push Push and it will be out on Mixmash 14 February. We are also busy with a really big EP, I can't say much about this yet but it will definitely be big!
Where can we catch you playing this year?
I will be attending WMC for the first time this year so you can check me out there! I will play alongside names like Skrillex, Laidback Luke and Sidney Samson. I've also got some dates for Asia around May this year, so to all my Asian people and tourists keep an eye out for me there!
What is the dream for the future?
My dream for the future is to dominate dance music big time! I'm so motivated and it's a real challenge for me to make it reality. Bring on the future, I'm ready for it!
Interview by Daniel Slipper