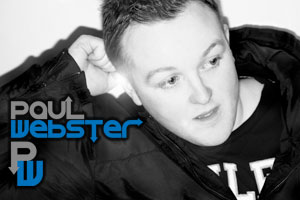 It has been just 3 years since Paul Webster appeared on the trance scene. Since then he has produced some outstanding tracks, played much talked about events, launched a radio show and founded his own label. But it doesn't stop there.
When did you become interested in dj-ing and music production?
I first started to listen to Judge Jules every week on BBC Radio 1 back in 1998. I had my first set of turntables then and used to buy vinyl every week. I tried to always get my hands on the big tracks Jules used to hammer on his show. This got me into the scene about 11 years ago.
What is your approach to remixing other people's tracks?
I am signed to Armada so they normally ask me to do a few remixes each year depending on whether I like the track or not. I also select one or two tracks from back in the day that I used to hammer on old 12 inches. This year I have done my own version of Olive – You Are Not Alone and recently a new version of Jam X & De Leon – Can U Dig It? which seems to be creating a huge buzz.
What was it like making your debut at Judgement Sundays in Ibiza over the summer?
If I am going to be honest it was a dream come true to make my Ibiza debut at a club night I have gone to and enjoyed. It was the stand out event of 2009 for me – an amazing night to play. Hopefully I am back there next summer.
How is your radio show going?
My radio show – Vision – is going from strength to strength. I have now moved exclusively to ah.fm and I am really happy to be involved and part of such a huge and strong online brand.
How is the debut artist album progressing?
The album is something I started late last year but have put aside for the time being. I wanted to concentrate on getting more original Paul Webster material out there first. Next year will hopefully see me sit down and get working to get the debut album nailed.
What is on the radar for 2010?
There is a huge amount. I have been asked by Tiesto to remix one of his tracks which is a huge achievement and milestone for me. I have got to follow up The Wolf on Armada plus there is a new Paul Webster vs Fred Baker EP. There will be new work on my label – Vibrate Sounds – and I'll be pushing my radio show as well as launching a podcast in early 2010.
I am also becoming a father for the first time in January.
Aside from trance artists who else do you enjoy listening to?
To be honest I mostly listen to dance music whether in the studio, club or car. I also love listening back to old sets whilst in the gym. However, I do like bands such as Coldplay, U2, Queen and The Beatles.
And when you are not dj-ing or producing how do you relax?
I chill out at home with my amazing fiancé and watch tv. I also go to the cinema as well as being a massive Liverpool FC supporter. I used to get to 15 games each season but these days I m lucky if I get to 5!
Interview by Daniel Slipper