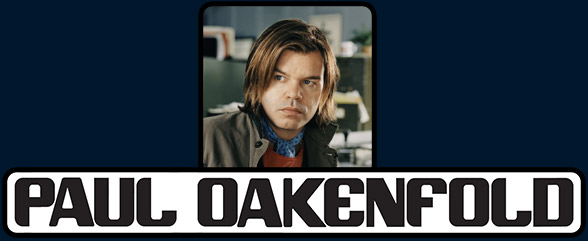 Paul Oakenfold – a great event
It is always nerve racking preparing to talk to a legend, but when I am put through to Paul Oakenfold he treats me like an old friend.
I have spoken to Oakenfold before and he gave exactly the same impression. He is straight-forward and easy in conversation – an ordinary man. It just so happens he is also a global superstar dj and musician.
There is no need to summarise his achievements so far. They are well-known and documented in Richard Norris' authorised biography (Bantam Press).
I spoke to him about the present and the future.
Oakenfold's present is focused on a hugely successful season at Rain Nightclub in Las Vegas. His stint at the club has lasted two years and will continue until at least the end of 2010.
The show – because it is very much a performance – regularly entertains over 3,500 people and features 60 performers (who previously worked with Cirque du Soleil) as well as Oakenfold on the decks for 3 hours. Other djs, including David Guetta and Armin van Buuren, also make guest appearances.
It is based around the idea of a planet of fun and includes artificial snow and indoor pyrotechnics. The event is typical Oakenfold exploring new and exciting ways of performing and taking clubbing to an entirely new level.
He has also been working with Matt Goss who is well-known in the UK as the lead singer of Bros but has gone on to develop a hugely successful worldwide solo career.
Their collaboration – Firefly – was released in early July but they have also been working on a big new trance track. Oakenfold describes Goss as "an incredible singer" and he seems hugely excited about the new work.
We move on to discuss the immediate future and Oakenfold's plans to spend much of the summer in Europe.
He will be appearing in Hungary, Germany, Lebanon, Austria, Belgium and Tunisia before arriving in the UK for Global Gathering in Stratford-upon-Avon on Friday 30 July.
In August he will return to Ibiza – an island which influenced him so much as a musician and which played a huge part in the creation of modern dance music – and the place of which Oakenfold has said "everything you were told you couldn't do by your family and employers, you could do. There was a feeling of freedom there."
At the end of August he will appear at what he describes as the "great event" that is South West Four on Clapham Common in London.
Clapham Common has special meaning for Oakenfold. He used to live there and in 2001 played the biggest solo London gig of his career at a Channel 4 sponsored free party when 75,000 people turned up to hear him play. "It became not just a South London event, it became a massive free party for the whole city. The people just didn't stop coming," said Oakenfold of this precursor to South West Four.
The 2010 event will see Oakenfold headline the Time Out Arena with Sander van Doorn, Marco V, Judge Jules, Gareth Emery, Giuseppe Ottaviani and Jerome Isma-Ae joining him on the decks for the preeminent dance event of the year.
During his set Oakenfold will be showcasing tracks from his new album. Pop Killer features collaborations with electronic dance acts and soul singers and has been a long time in gestation. He just keeps getting distracted with other projects and ideas.
I remind him this was also the case with his first album – Bunkka – which took a long time to create and about which he has commented "I really agonised over it. At times I never thought it was going to be finished."
Bunkka is one of my favourite albums. It is genre defying and a beautifully crafted work of art. If Pop Killer is of the same standard we are in for a treat when it is released in early 2011.
Oakenfold is a man bursting with energy, ideas and creative talent who is constantly exploring new opportunities in an evolving career.
If you seek inspiration explore his music, his clubbing experiments and his individual performances and you'll experience something totally unique.

Feature by Daniel Slipper