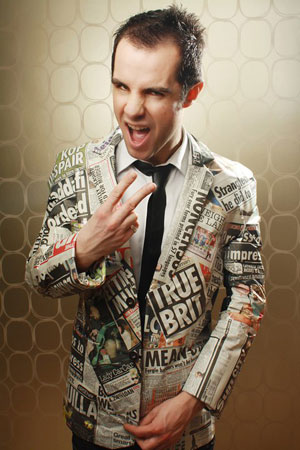 Until earlier this year, dj and producer Paul Morrell ran the innovative Classique night in Coventry. He has also created some excellent remixes of tracks such as Black Box - Ride On Time and Tony De Vit - The Dawn.
His new track - Give Me Love - features the vocals of Mutya Buena and comes with a truly stunning Reset The Preset remix.
When did you first become interested in music?
I've always had an interest in dance music and think my first memory was listening to artists such as Coldcut, Technotronic & Neneh Cherry at the age of about 8. The first record that I bought was Technotronic ft. Felly - Pump Up The Jam and this has remained a firm favourite with me.
Who were your early influences?
I love all electronic music and my tastes have become more eclectic as I have got older. I have always loved Pet Shop Boys, Boy George, Madonna and Sasha & Digweed. However, I also really like artists such as Human League and Mark Ronson.
How did you become involved in dj-ing?
I first started dj-ing when I was 14 years old having saved up for a cheap pair of decks. I already had a very extensive record collection and was asked regularly to play at friends' private parties. I first became involved in the club scene a few years later playing for now infamous clubs such as Progress in Derby, The Steering Wheel in Birmingham and The Planet in Coventry. I also had the chance of working alongside big artists such as Judge Jules, Lisa Lashes and John Kelly in my early years as a club dj.
When did you launch the renowned Classique night in Coventry?
Classique launched in 2005 as there was little else on offer for fans of the dance music genre in the city. It was the first time that djs and artists of such a high calibre had visited the city on such a regular basis since the close of Eclipse in the early 90s.
Why did it come to an end earlier this year?
I made the decision to end Classique for various reasons. Firstly, local interest in trance music had taken a dive and it was becoming increasingly difficult to juggle finances. Deadmau5 recently headlined a gig in Coventry which was half empty and I just felt that summed up the local attitude towards dance music and that maybe I was 'flogging a dead horse'. Secondly, when I began Classique I was far more focused on hard dance and trance music, which is a scene which has now virtually disappeared. My sound is now far more mainstream and some of the Classique 'die hard' followers have said that I have sold out working with artists such as Sonique and Mutya Buena. I would have to disagree!
Where can we catch you playing over the summer?
I am now playing for The Gallery at Ministry Of Sound in London, Passion in Coalville and various spots across the UK and Ibiza.
How did your latest track - Give Me Love ft. Mutya Buena - come about?
I approached Mutya's management having already had success with Sonique. I wrote Give Me Love and presented it to Mutya in demo form. She loved it and we then recorded the final version in London with Fabio Stein (who also created a remix for the single)
Is it true you have also created a track with Katherine Ellis?
It is! Katherine provides the vocal on my forthcoming single entitled That Ain't The Way (To Show Me Love) which is a massive mainstream dance anthem. Obviously, Kath is synonymous with the dance music genre having recorded with artists such as Freemasons and Ruff Driverz! It was an honour to work with her and the end result is huge.
What is on the agenda for the rest of 2011?
I am working on several projects with Sonique who is an extremely close friend. We are actually working on a greatest hits remix EP of her tracks Sky, It Feels So Good and I Put A Spell On You. I also have several other projects in the pipeline.
It is clear you are dedicated to music. What else are you passionate about?
I love all arts really. Music is my main passion. However, I am also a keen photographer and graphic designer!
Give Me Love was released on Maelstrom Records on 2 May 2011.
Interview by Daniel Slipper