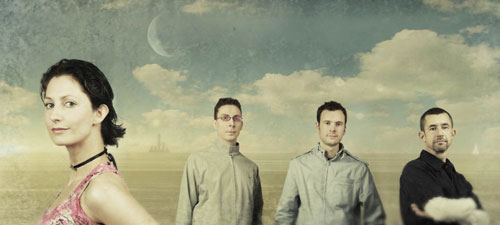 OceanLab is a project featuring Above & Beyond (Jono Grant, Tony McGuinness and Paavo Siljamäki) and vocalist Justine Suissa.  In the last two years they have become some of the hottest names on the scene.  Their first three singles – Clear Blue Water, Sky Falls Down and Beautiful Together – have set the standard for outstanding vocal trance.  Earlier this year they made their live debut at Passion in Coalville and were proclaimed "the best live act we have ever had" by resident JFK.
Their latest single – Satellite – was released on 19 April and went straight into the UK charts at No. 19, having been played twice in Armin Van Buuren's show two weeks in a row, five weeks in a row by Judge Jules, and well over eight times by Dave on Dance Anthems.
Where did the name OceanLab come from?
The name for the OceanLab project came from the aquatic nature of the first single we wrote together (Clear Blue Water) and Wavelab software. We then extended the name to cover the studios we work in. Since inventing the name we discovered there are some real OceanLabs involved in oceanic research at universities in Russia, Scotland, and elsewhere around the world.
Your new single – Satellite – came out on 19 April. Where did the inspiration for the track come from?
Satellite was originally written when Paavo's girlfriend was away in Japan and they were missing each other badly and, hopefully, describes that long distance love thing. We changed it to the first person so when we played it live at Passion in Coalville Justine would be singing directly to the faithful!
Apart from preparing Satellite what have you been up to over the last few months?
We have been writing OceanLab material from which the follow up will be chosen.
You ran a competition in which 2,500 people took part to produce two mixes of Satellite which are being released alongside the Above & Beyond Original and Progressive mixes and the Markus Schultz remix. This was a very innovative idea. Why did you do this?
The remix competition was designed to give an opportunity to the huge number of budding producers we have visiting our label web forum at anjunabeats.com and to get some mixes which would compliment our own and the one done by Markus Schultz. And it worked! We had over 2,500 downloads of the parts, about 500 physical entries, and about 10 that were really great. We played the top ten on our radio show (Tuesday nights on Ministry of Sound) and the listeners picked the winners via a web vote. The two winners were very different mixes: Alx Odden's funky Flipside mix is a Benny Benassi-esq thing and Floris de Haan did a spectacular chill out mix with these amazing strings.
You also run your own record label, Anjunabeats. What is coming up on the label that we should look out for?
Smith & Pledger's latest collaboration with Matt Hardwick is getting plays from the likes of Markus Schultz and Judge Jules and is out in May. Then there is the new Above & Beyond single – No One On Earth – which features Zoe Johnston on vocals. Zoe has sung with Faithless and Bent and is an awesome talent as well as a lovely girl! Armin and PVD have both been caning No One and Oakie range us to say he loves the track, which is nice. We will start promoting it in the UK very soon and the release date will be early July.
Anjunabeats brought us a fantastic track in Endre's Kallocain and you seem to be very interested in developing new talent. Who have you got your eye on at the moment?
Endre's an exciting talent and we are very happy to have him on board. Smith & Pledger and Super8 are probably the strongest emerging acts on the label right now but we have recently signed up another Finn, DJ Tab, plus a Dutchman by the name of Menno De Jong and have high hopes for them both!
As a production team you release under a few difference guises – OceanLab, Above & Beyond and Tranquility Base. Why do you do this?
We record under difference guises because we can! It allows a degree of artistic freedom and experimentation that a single artist name can't really do.
Who are your personal favourite DJs?
Paul van Dyk and Eddie Halliwell (thanks Tony)
When you get time, what do you do to relax?
At the moment we don't really get time, but when I do I like to go scuba diving (Tony)
What does the future hold for OceanLab?
Hopefully an album which the dance heads will love and other people will love as well. I think an OceanLab album will end up being a cross between Chicane and Zero 7.
Watch this space for further news on OceanLab! They are certainly 'ones to watch' for the future.
Also, look out for the next Above & Beyond (featuring Zoe Johnston) single No One On Earth.
Interview by Daniel Slipper