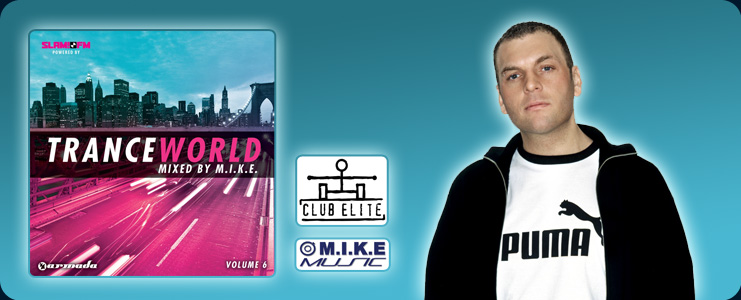 Mike Dierickx has produced under a series of aliases including M.I.K.E, Push, Plastic Boy and Absolute in a long musical career as one of the pioneers of the trance scene. Along the way he has created classic trance anthems including Strange World, Universal Nation, and The Legacy.
1. How did you discover dance music?
Years ago, when I was into synth pop and New Wave, I discovered the potential darker side of music and thought let's bring it to the bright side. It was cool to see people freaking out on the dancefloor and letting themselves go on beats and Chicago/Detroit house based rhythms. Of course, I am talking back in the day – late eighties.
2. When did you start producing your own tracks?
I handed over my first home made demo at the age of 18 to an Antwerp based record company called U.S.A Import records and my first release under the Vision Act moniker was born.
3. You have developed many different aliases – Plastic Boy, Solar Factor, PUSH – during your career. Why did these come about?
I am so diverse when it comes to music and every project has a different identity and sound – whether it is techno, house, or my beloved trance each track has a signature and sound but always with the M.I.K.E touch.
4. What inspired you to create your first worldwide smash – Universal Nation?
Nothing! I was just going into the studio like any other day. Everyone knows I did the track in 4 hours on a Wednesday afternoon. There was no formula or basis for it. It was what my heart told me to do and that day was the right day for Universal Nation.
5. You have dj-ed all over the world from London to New Zealand. Do you have any particularly cherished memories?
Travelling the world is a wonderful thing and it's true I have been everywhere – all over the globe. But all of them are unique. I always liked my Australian tours and the festivals in Europe in the summer. But my favourites are The Gallery and my gigs in New York.
6. You were one of the first to embrace the digital era by creating the Maximized Digital label some years ago. How do you think this has changed the industry?
In the beginning, everyone was a bit sceptical but I saw the big potential of legally sharing your music via the internet. I joined Beatport when they started so it was easy to catch up with the whole new mp3 distribution thing and see how clubbers and djs embraced the new digital world.
7. You have gone on to create another label – Club Elite. What is the focus of this new venture?
I started the label after I joined Armada Music. I try to release my own – Push, M.I.K.E and other feature projects – music on it along with my friends and fellow djs. The label focuses more on the deeper side of trance with a progressive touch. It does really well and a label compilation is scheduled for after the summer.
8. And you have recently mixed the new Tranceworld Volume 6. What are the challenges when compiling an instalment in a long running album series?
The challenge is to bring out the best sounds of clubland remembering that people are going to be listening in their cars, computers, and wherever they go. You have to find the club vibe and encourage them to party on. It's something that people wanna hear in that kind of series
9. Are you also working on a new artist album?
The new Push album is just completed. I am very excited about it as this album has a totally new approach. It has the same feel of the past with the soundscape of today. It's a double album due out in June and there are big things to come!
10. Will you be doing a tour to support the release?
We are heading to Ministry of Sound in late June for a massive launch party so watch this space for more exciting news.
More about Mike at www.mike.be
Interview by Daniel Slipper