Fresh from a very successful series of Residency shows on Radio 1 exciting things beckon for Jon O'Bir. I went to find out about the past, present, and future of this talented up-and-coming artist.
1. How did it all start?
Back in my school days I used to pinch my brother's CDs and tapes that were lying around. As soon as I heard the electronic music compilations and singles I was hooked. I got my first set of decks after I left school and then spent all my weekly wages on records.

Once I was happy with my style and mixing I started searching for DJ competitions in various dance magazines. I found one that M8 and Passion nightclub were running so I sent in a CD. I ended up getting to the final and I won! My prize was to play the warm up set for John 00 Fleming in Passion's main room. Once I had won the competition I sent CDs to 100 nightclub addresses I found in the UK. The only club which got back to me was the one I least expected to hear from – Godskitchen.
2. How was your very first night at Godskitchen?
My first night was indeed something special and also surreal. Mixmag interviewers had been following my every move in the days running up to the gig. That Friday they had followed me to college and my part time job at Tesco before heading off to play the warm-up set. I didn't know what was happening. It was all crazy playing to such a big crowd after finishing my short shift at Tesco. It felt like some brilliant dream.
3. Radio 1's Judge Jules and Fergie were both early supporters. How did you meet them?
Godskitchen put me in touch with Fergie during my first few weeks at the club. Ferg was more than happy to help at the start of my career and I owe so much to him for being there to talk to me and help me keep my head. He offered me a 30 minute mix on his first Radio 1 show in January 2003 and then continued to show his support naming me one of his 'future fledglings'.

Judge Jules was a massive influence on me along with Dave Pearce. I used to listen to these guys every week on Radio 1. My Friday, Saturday, and Sunday nights were all about Radio 1's dance shows. While my mates used to go out I stayed in and listened to these guys and then would get on the decks until the early hours.
4. When did you start producing your own music?
I was not really interested in making my own music until about 2 years after I took up djing. I had been to college to work on a music production course but this really did not help that much. The only thing that came out of it was how to use Logic Audio. I am just starting to get somewhere with my productions. I wish I had taken more interest in the production side of things earlier in my career. I have some catching up to do but expect to hear a lot more from me over the next few years.
5. Were you nervous launching yourself as an artist?
Not really. There were concerns as to how long it would last but there are always concerns. I am not much of a worrier though so I will live this dream to the full.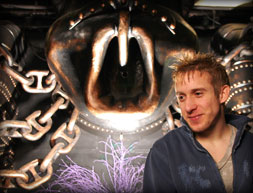 6. In 2005 you were offered a slot on Radio 1's new Residency show. How did this come about?
Radio 1 contacted me in early summer 2005 via my agents and asked me to compile an hour long show. I was then invited to London to do a few practice runs before eventually putting together a demo show at the famous Radio 1 studios. It was out of this world just doing the demos! When I found out I had a residency it was like getting a residency at Godskitchen x10! I had spent so many years listening to the dance shows on Radio 1 and now I was part of it. My 6 shows went so fast but it was an amazing experience.
7. What led you to set up your own record label Conspiracy Recordings?
Rob Stevenson and I came up with the idea of creating a small digital label after we had bad experiences of dealing with other labels. We wanted to care for the artists first and foremost. From a small digital label it has grown bigger than we expected in a short time with us now doing plenty of vinyl as well as the digital side, plus 2 off-shoot labels (Deep and Limited).

8. What should we look out for on the label?
Rob and I have some of our own productions on the Limited side of the label. A new Jon O'Bir, Aira Force (me and Rob), and Activa (Rob), are all on the way. Keep an eye on our Deep residents Basic Perspective who have had support from all the biggest djs and new and exciting projects on the main label.
9. Where can we catch you djing over the next few months?
You can catch me at Godskitchen, Gatecrasher, Passion, Slinky, Escape and many other UK venues. Also I have a few tours planned for my forthcoming compilation including China, Australia, and the USA.
10. What next for you as an artist and dj?
Coming up on 24 April is my first compilation release. Baroque are launching a new Residents series and I am honoured to be mixing the first one. I will be working on many more productions and collaborations this year and – of course – will be hoping for many gigs to spin my stuff!
Interview by Daniel Slipper