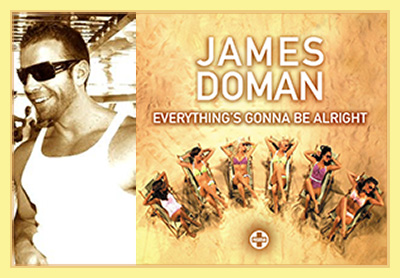 On the dance floor, you sometimes hear a track which captures your imagination and freeze-frames in your memory where you are, who you are with, and what you are doing. For many people this summer that track has been James Doman's Everything's Gonna Be Alright.
Everything's Gonna Be Alright is your take on a classic underground anthem. How did the track come about?
The track came about as a remix to play in my dj sets. I tend to rework or remix a lot of tracks so that my sets sound unique. I was playing around on the piano with the old Ce Ce Rogers riff and when I needed a vocal I reached for the Alright vocal, which happened to be in the same key, and it worked like a charm. I tried it out on the dance floor and it worked a treat.
How does it feel to have Tiesto hammering the track at the peak of his sets?
It is an amazing feeling. He really got behind the track from day one. Seeing and hearing the reaction people have to him playing it, feels great!
When did you first send it to him?
I gave it to him in February 2007 and he has been supporting it for 18 months.
Am I right in thinking Tiesto joined you over the summer at your home club Circa in Toronto?
Well, it wasn't actually Circa but a stadium show at the Ricoh Coliseum in Toronto with 10,000 in attendance. There is no way the club could have accommodated that size of crowd. It was an amazing show.
How long have you held your main floor residency?
The club is approaching its first year anniversary on 4 October so close to a year now. Time flies when you're having fun!
Are there any plans for you to play in London?
I am definitely looking forward to playing in London in the near future, possibly closer to November/December. Commitments in the studio have kept me locked down at the moment.
So, did Tiesto drop Everything's Gonna Be Alright or did he leave that to you?
He actually said for me to drop it as my last song before he came on, and wow what a reaction! Seeing 10,000 people with their hands in the air and singing the song sent chills up my spine……
When can we get our hands on a copy?
Digital release is Monday 8 September and physical is Monday 15 September.
Are there some juicy remixes?
There are some fantastic remixes. I like the diversity as much as the mixes, from the D&B mix that J Majik and Wikerman did to the techy Nicole Moudaber mix. It is nice having played the original for so long in my sets to have a choice of some other mixes. The Soul Avengerz and Carl Ryden mixes have been staples in my sets.
The video is hot, to say the least. Were you on set?
It would have been nice but unfortunately my schedule did not allow me to be on set. I have been busy in the studio writing an original follow up and putting the finishing touches to my band's first single.
Interview by Daniel Slipper