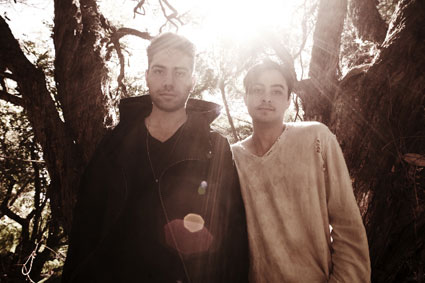 Gypsy & the Cat are Xavier Bacash and Lionel Towers.
They began making music in a garage in Melbourne, Australia and posted their tracks on myspace.
Support from Australian radio station Triple J and Mark Ronson on his East Village radio show followed and their debut single was soon signed by London indie label Young & Lost.
In this interview Xavier explains how they were inspired to work together, where their ususual name came from, and the reaction he expects from the fans of their music.
When did you both become interested in music?
I guess we had been interested in music for a long time. Lionel has been playing piano since he was 4 and I think I started getting interested in music when my dad played me Jimi Hedrix for the first time.
How did you meet?
We met dj-ing French house tunes at a club in Melbourne in Australia back in the day.
What inspired you to work together?
We became friends and were working on different musical projects separately. One day we just decided to get into the studio together to see if what we did was better than our previous works. It was that and a shared interest in French house/80s inspired dance music that bought us together musically.
Where did the name come from?
Boring story this one! I bought a bed time story book from a vintage market in Melbourne one Sunday morning. It was called 365 bed time stories and it was essentially meant for a bed time story for each year of the night. One was called gypsy the cat and we liked the name so changed it to Gypsy AND The Cat.
How did the first single come about?
The first single was - in fact - the last song we wrote on the album. Time To Wander was written about myself on the brink of an adventure holiday to India.
There is an absolutely wonderful Mopp remix of Time To Wander. Who is Mopp and how was the remix created?
I'm actually not too sure who Mopp is! Great remix though!
When did you 'get noticed'?
It was probably when we created a myspace and put our songs up. Within a few days we had multiple record labels either flying us in to meet them or coming to us.
How long did it take you to create the Gilgamesh album?
We did it over the course of about 6 months but that was because Lionel was at university full time and I was working in a factory so we got to the studio when we could. Songs like Time To Wander and Sight Of A Tear were completed in just a day so I think had we not been otherwise occupied and had the studio space to ourselves we could have written the entire album in 11 days.
In May you'll be touring Australia. Are there any plans to perform in London?
Yes, we are planning to head to Europe to do the summer festival circuit around August this year.
Are we allowed to dance to your music?
No, just sing along!
Time To Wander is available to download now and I suspect trance fans may particularly enjoy the Mopp remix.
Interview by Daniel Slipper