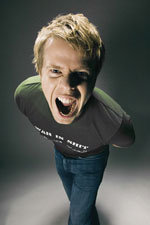 Ferry Corsten released his first record aged 16. Since then he has become a hugely respected international dj, producer, and artist. Considered one of the big beasts of electronic dance music and particularly trance, he was recently voted UK DJ Magazine's Best Trance DJ in Ibiza and No 5 in the Top 100 DJs in the world. He DJs extensively across the globe but is also well-known for his considerable body of work as a producer and remixer under a variety of aliases. His Trance Nation series (1999-2001) has sold over 1m copies worldwide and Ferry Corsten is the only electronic dance music artist to achieve the highest number of dance singles in the UK charts.
What have you been up to recently?
I have been really busy in the studio working on my next artist album. Besides that, I have been touring around the world.
When is your new single released?
Fire will be released in the UK in the 3rd week of January on Positiva.
Simon Le Bon (ex lead singer of Duran Duran) provided the vocals for the track. How did this collaboration come about?
I found this little vocal hook on one of Duran's older tracks and thought it would work really well with what I was doing at the moment. I made a demo and Duran loved it and decided to work with me on this track.
How is the work on your second artist album going?
Slowly but surely I am getting there. It is shaping up really nicely and will definitely be the next step after my Right of Way album.
When will you next be in the UK?
After having done NYE in the US for the past 3 years, I will be back in the UK for NYE. I will be at Godskitchen and Brixton Academy for Turnmills.
How do we keep up-to-date with Ferry Corsten?
Just visit www.ferrycorsten.com! Everything you want to know is there and the forum is great!
Which club is your favourite?
I am afraid there are too many favourites to answer that question ;-)
What do you do to relax?
I am on the couch watching movies and being lazy…..
Who or what inspires you?
It can be anything from the mood I am in to a tune I hear. But mostly it is 80's music.
What are your plans for 2006?
2006 will see the release of my new album L.E.F (Loud, Electronic, Ferocious) and therefore a lot of touring.
Ferry Corsten – Fire – will be released on 23rd January 2006 on Positiva Records. It will be downloadable from www.positivarecords.com and available on 12-inch and CD featuring the original mixes plus remixes from Bush II Bush and Ron Van Den Beuken.
Make sure you buy Ferry's excellent new single and look out for what promises to be another exciting and unique album coming soon.
Interview by Daniel Slipper