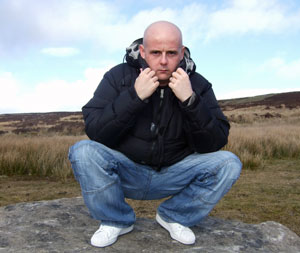 Darren Bailie is the dj and producer behind the Guru Josh Project and the worldwide smash hit track Infinity 2008.
When and how did you become involved in music?
I started to play the drums at a young age but first got involved in dj-ing at the age of 16. I went to a rave where the DJ was scratching and was instantly hooked. I have been a full time dj since 1998.
What prompted you to form the Guru Josh Project?
The original track from 1990 was always a big track for me in my teens and I always had a passion to do a cover of it. I met Paul Walden (Guru Josh) in 1999 and he became a good friend. He gave me the rights to do a re-release/cover as and when it suited me as he had no intention of doing any more music in his life.
I did a half-hearted version in 2003 but did not take it anywhere. Then in 2007 electro got very popular. I thought this sound was perfect for the old Infinity saxophone part. I did my first mix in August 2007 which got the ball rolling and then it just exploded in my face. Not complaining though! I later invited Guru to join me in my venture to do the live shows. At first he refused as he had no interest in music but when he realised just how huge the track was going to be he changed his mind and the Guru Josh Project was born.
Were you surprised by the huge success of Infinity 2008?
Yes, very! I knew it was a great all-round package but never expected it to be no. 1 in nearly every country worldwide. It has been totally unreal.
Were you nervous about your first solo release – Protect Your Mind 2009 – which incorporated the melody from the soundtrack to Braveheart?
No, not at all. I am actually about to put a new promo pack together for the UK – a couple of new mixes etc. I am really excited about it as I think it could work over here.
What is the story behind the new single – Silence?
It is a track I've done with a couple of good friends/producers from Berlin. It's a track with more of my personal feeling/taste with a big phatt kick, a dirty little Dutch squeak and a little phunk. It's good pumping house – in my opinion anyway ?
Will you be going on tour to promote the new release?
For sure! My manager is working on it right now so keep on the lookout for details.
Is there also a new album on the way?
I would hope so. I have another single to do then work on the album will commence.
You also remixed the latest single by Boy George – Amazing Grace. How did that come about?
Not 100% sure as my manager took care of the request. We were just sent the remix parts and so we did the mix. Originally it was going to be a bootleg as we were late getting it in but they liked it so much they did a second release with only our mix on it – lovely!
Which software do you use to create your music?
I work with a PC Quad core triple monitor, Cubase 5, Slynth, Nexus2 and a heap of waves stuff, vsts etc.
What do you use to inspire you creatively? Are there other musicians you admire? Are there movies which prompt you to head to the studio? Perhaps it is long walks in the countryside?
Not really sure. Ideas just pop into my head any time. It could be driving, shopping, watching telly, anything. I kind of get a feeling more than actually think about it, if you know what I mean?
Interview by Daniel Slipper