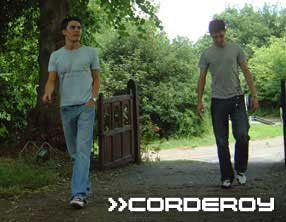 If you have been listening to Judge Jules' Saturday Warm Up recently you will definitely have heard Corderoy's latest track – Drifting. You are also, more than likely, familiar with some of their previous works – Deeper and the excellent Sweetest Dreams. I talked to brothers Chris and Dale about the understated buzz which surrounds Corderoy.
You formed Corderoy in 1999 and both have musical backgrounds. Where and when did it all start?
Chris – We both grew up in Torquay (South West England) and from very early ages were influenced by a huge array of musical styles; this was mainly due to our dad being an avid vinyl collector. Most rooms in our house were engulfed with vinyl. I can remember Dale and I would often sit for hours playing through some of the weirdest tracks on dad's old turntable (but being fairly young we regularly broke the needles on the stylus which obviously didn't amuse!!)
Dale – Off and on we've played together in numerous bands all our lives, mostly of the rock/funk variety. Although during that time we went through education at different periods, which meant we took quite different paths, we also ended up in locations miles away from each other, which prevented us from working together. Chris was already based in London. I had originally started producing in Leicester, but when I moved to London the band was officially formed.
I have to ask! Where did the name come from?
Chris – When Dale was producing in Leicester, we would frequently send experimental tracks and ideas to each other. To begin with we decided to label these under our family name Corderoy for simple reasons and to keep tab of tracks. When we finally started the band the name just sort of stuck, plus we thought it was quite original sounding.
Your first commercial release, Sweetest Dreams, is such an emotional track. Where did your inspiration come from?
Dale – Its quite difficult to clarify exactly where the inspiration comes from for any particular song. We both tend to put a lot of emotion into tracks when writing. (I've actually seen Chris weep like a small child when writing a tune!). We try not to let any remix or song out of the studio without both of us being happy with it. In a way it is a sort of quality control. Normally the test is whether the song gives us a good foot tapping or head nodding motion! When listening back, if it doesn't pass a few checks it usually heads towards the bin, or is recycled as a coffee coaster.
In 2003 you remixed Marc et Claude's La for Positiva. How did this opportunity come about?
Dale – Chris was tied up in London at the time (not literally though), so I flew over with our remix. It was a great trip. Marc et Claude were very welcoming and we finished off the project together. It turned out slightly different from our original mix. With their input on the track, it ended up being more of a joint project than a remix but we were pleased with the results.
Deeper came out in 2004 featuring beautiful vocals by Kirstie Gorton. It was absolutely hammered by Judge Jules who played it 8 times during his show. How was it received generally?
Dale – Really well! Some of the encouraging feedback we've had to the site has sometimes really taken us by surprise. We owe quite a bit to Jules as he really did get behind the song and give it his full support.
Chris – The vocals provided the track with a great sing along factor without it being too cheesy. It is always a great moment when we play this out, as you can see people singing along to it! Obviously we mime when we are in the DJ booth, wouldn't want to ruin the track for everyone!
Also in 2004 you considerably increased your DJ appearances playing in Manchester, Sheffield and at Trance Generation in London. What prompted the move in this direction?
Chris – The main reason we decided to expand our DJ appearances was to facilitate even more opportunities to gauge feedback on new material and remixes. We already have a lot of DJ's road testing stuff for us, which gives a good range of feedback, but we feel there's one sure fire way to make sure a tune is right and that's by playing it out ourselves. Crowd response is everything, if it doesn't cut in the club the crowd will let you know straight away. You can really identify if a tune works in the heat of a set.
Dale – During our sets we try to be as innovative as possible. I don't believe in planning an entire set before the gig, but it's good to have an idea. What will work in one venue does not work for all. There are too many DJ's who play for themselves and are more intent on trying to impress other DJ's than the crowd at the venue. At the end of the day, a DJ is there to entertain a crowd and that means putting on a great performance. We of course have to place our own style on a set but we try to adapt our sets to the venues we play.
I hear you are planning to DJ in Ibiza this year? Any information on where and when you will be on the White Isle?
Dale – It's a bit hush hush at the moment. Sadly we can't reveal too much as it is a bit of a one off special event, but we're quite excited as it will be our debut over there.
Chris – Yeah, we'll get slapped on the wrists, but nearer the time once everything is confirmed, we'll be happy to expose exactly what's going to be happening.
Judge Jules is supporting your latest track – Drifting – but I hear it is only getting a somewhat 'special' release. I want to get my hands on a copy. How can I get hold of it?
Dale – We gave it to Jules a while back as an exclusive promo for him to road test as we didn't really want the track to be handed around to just anyone. We've kept it quite exclusive so far and he has been the only DJ to have received a copy.
Chris – It is due for a full release through our own new label Accord Records very soon, but for a limited time only we have offered a special digital download on our site www.corderoy.co.uk
Drifting is in something of a new style, as are some of your other new tracks. I am thinking of Born Again and Simple Emotion. Is this a new direction for you as producers?
Chris – We always want to be fresh. We write primarily to sound different to the usual suspects. We both often experiment fusing new sounds with different styles and we also try not to be limited to one genre.
Dale – We certainly don't want to put out one track after another which sounds similar to the last. We would rather produce original tracks rather than cash in on a formula. Of course, we understand that sometimes a good selling formula is valuable, but in our eyes being original is more important even if you sometimes don't please everyone.
What next for Corderoy?
Chris – Well, a major aim is our first album, which is something we are currently working towards and, of course, our new label Accord which is a very exciting new venture for us.
Dale – Our ultimate goal is to make Corderoy into a household name. We have a lot of exciting stuff planned for this year both DJing and production wise. Really, we want to give back a little to the music scene some of the inspiration and passion that it has provided us over the years.
From Monday 25 April check out Corderoy's new show (7-9pm) on DI.fm featuring upfront trance and the hottest Corderoy tracks.
Watch this space for more information about the talented Corderoy or check out their site: www.corderoy.co.uk.
Interview by Daniel Slipper