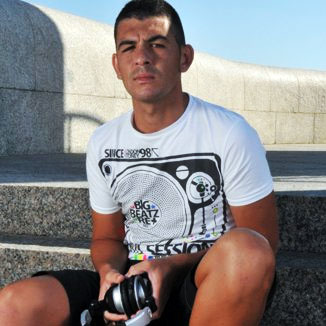 Borja Iglesias, aka Dimension, is a trance producer from Vigo in the northwest region of Galicia in Spain. He has created several notable productions and remixes including the stunning track Once A Day which was used on Ferry Corsten's Once Upon A Night compilation. In this interview Dan Slipper spoke to Dimension about how he became involved in trance and what inspires him to create music with a Balearic vibe.
How did you become involved in trance?
I discovered electronic music production with software I found on a packet of cereal. It was called Top Of The Pops Mix Factory and was great fun. Then, looking for more professional software, I found Techno Maker XXL but finally I fell in love with Fl Studio. I have always loved electronic music but the great feeling and emotion in trance is what makes it different from any other style.
You released your first single in 2009. What was it and how did you manage to get it signed?
Yes - my first single was Longing. While I was trying to improve my music I contacted other musicians, mainly from Spain. I used to chat with Angel Ace who gave me good advice and spoke about his label Only One Records. At the time I had no idea how to manage labels and how they worked in terms of receiving demos. Starting off with Only One was a great option as a first step to getting involved with how labels worked.
After the success of this single you established a link with Paul van Dyk's Vandit. How did you become involved with the label?
This was one of the happiest things I have known in my career along with the very first time Armin supported one of my tracks on ASOT. Fast Distance asked me to remix his track Big Ben which was signed to Vandit Records. I thought the idea was awesome and I couldn't say no. I was very lucky when the remix received full support from Paul van Dyk. He played the track on his VONYC Sessions radio show three times and included it on his annual CD compilation. It was a dream come true!
Your music was then featured on various compilations including Roger Shah's Music for Balearic People. How did you make these links across the industry?
This was another magical success for me. To be part of the best electronic dance music label in the world and work with Roger Shah was incredible. I decided to make tracks with a Balearic vibe because I live in a city on the coast. We also have magnificent islands called Islas Cies so I used them as inspiration. I couldn't believe that in only my second year in trance music I was signed to Armada Music.
From whom do you take inspiration?
I love all kinds of trance music and I don't like to focus my music on particular styles. When I begin a new project I never use the same template and I try and make what I feel at that moment. If I like the first idea I develop it.
You recently created a guest mix for Dave Pearce's Trancecast podcast. Do you have a preference - dj-ing or producing?
I definitely prefer producing music, but these two activities offer different things. It is nice to create something and then use your own songs in your dj sets. It is amazing when people recognise your work and offer feedback, especially the big djs, who are basically my idols. I enjoy producing but I think that dj-ing is more fun and can give you more energy and euphoric moments.
What are you working on at the moment?
I am working on a lot of projects and remixes. I currently have 2 remixes on promo and a new vocal release with Jenry R - which will be on promo soon. I'm very excited about the few vocal projects I'm working on right now. One of them is a collaboration with the singer Arielle Maren, which will be released on Arisa Audio and includes an intro mix and new remixes. Then I have another vocal track with Cami Bradley. This will be very summery so I'm hoping to interest Armada's Magic Island in signing the track.
Is there a large trance community in Spain?
Unfortunately no! There are a few online communities on Facebook but in the big cities, like Madrid or Barcelona, there are solids group of trance lovers. They do a fantastic job in putting on trance parties such as Harmony and Harmony Deluxe and booking top artists such as Jorn Van Deynhoven, Temple One and Estiva.
What do you enjoy other than listening to and creating music?
I love to play football. I play indoor and 7-a-side football with my friends. One of my other great hobbies is mountain biking. When I am at home I love Formula 1, driving simulator videogames and playing the piano.
What does the future hold?
I'm very hopeful about the future. I think I am working well at the moment but I need to improve and release more important works on the best labels. I would like to dj more around Spain and Europe but I know it is very hard to get bookings so I'm concentrating on making better productions day-by-day.
To listen to some of Dimension's beautiful music visit these links:
http://www.facebook.com/dimensionmusicofficial
http://www.twitter.com/dimensionmusic
http://www.soundcloud.com/dimensionmusic
http://www.youtube.com/dimensionofficialtv
Interview by Daniel Slipper