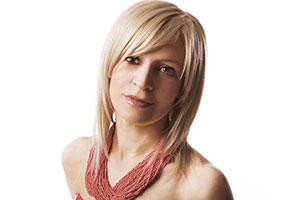 During the summer season 2008, superstar dj, producer, presenter, and queen of clubs Anne Savage is one of the special guests at Advanced + Tidy in Ibiza.
You have just played your first Advanced + Tidy night in Ibiza. Did you have fun?
Yes, it was wicked with the brilliant atmosphere I was hoping for. When I heard Dave's flight was delayed I was wondering if he was going to make it at all so I was ready to play on happily for a good few hours!
So, how did you get into the music scene?
I've been dj-ing for years now and got into it because I love all kinds of music. But my passion over the last decade has been for dance music in all its glorious forms. I used to be manager and buyer at Eastern Bloc Records in Leeds and then in London, which really helped my musical tastes as I was listening to everything from techno to hip hop.
Who were your early influences?

Carl Cox has always been a massive inspiration to me as he has always had such a great attitude towards his fans and is, of course, an amazing dj technically and musically. He makes it all seem so effortless.

Were you a self-taught dj or did you have a mentor?

I am self-taught. I literally stayed up night after night practising with the same two records until I could beat match and forcing my poor best mate Kate to listen! I still have them and they're very scratched, Inner City – Pennies From Heaven and Blow – The Cutter.

Your first major break was a residency for Angels in Burnley. What was that like?

At the time it was one of the best clubs in the country and an amazing opportunity. We had Carl Cox as a regular plus Joey Beltram and other techno maestros to learn from.

You went on to become the first official Tidy Girl. Are you very Tidy?

I like being tidy. In fact, I love it. It's just that I don't actually have the time or inclination to do the tidying!

The Dumb Blonde sets slightly changed your style. What prompted you to experiment with something new?

I have always had sidelines on the go, doing production work under different names in different styles, but with Dumb Blonde I took it to the next level and started dj-ing breaks, indie-disco, and various other forms of electronica – which I love but could never play under the name Anne Savage. You can catch me as Dumb Blonde at the Closing Party for Judgement Sunday this year, plus the Planet Love Festival in Ireland. The rest of my dates can be viewed on my portal – www.djannesavage.com.

You appeared on a Channel 4 programme teaching a classical cellist how to dj. What was it like "faking it"?

They filmed pretty much every day at my house so it was intense at times, but Sian was such a lovely person and we got on great which was rather good news because she stayed with me for a month! She picked up beat matching fairly quickly but worked hard practising every day. She was determined to fool the judges and it paid off.

As well as Advanced + Tidy you are also doing other things in Ibiza. What are you up to?

I am dj-ing as Dumb Blonde for Judgement Sunday and played the Opening Party which was fantastic. I am also playing the Closing Party in September.

Which dance anthem might you be dropping during your blistering sets at Advanced + Tidy?

I have recently done a mix with BK of Ruff Driverz – Dreamin which is a past Ibiza anthem. I dropped it at the Advanced + Tidy Opening and it got a massive cheer so I'll be playing that again for sure.
You can catch Anne playing Advanced + Tidy on 8 July, 29 July, 19 August, and 2 September.

Interview by Daniel Slipper