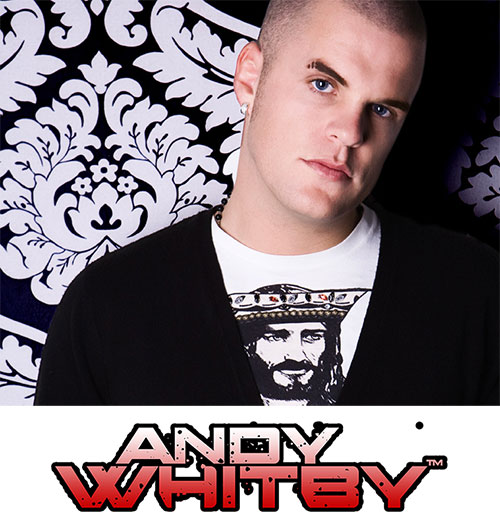 Andy Whitby is one of the special guests at Advanced + Tidy at Eden in Ibiza.
Do you remember the first time you heard hard house?
I do indeed. It was March 2000. I know this as I bought Mixmag and on the front was a free cd called Let There Be Hard House mixed by Fergie.
Did it ignite a fierce passion straight away?
It did. I remember putting it on the stereo and not really knowing what to expect, but by the end I loved it so much I listened to the entire cd again. It reminded me a little of happy hardcore, but slower and groovier, with more energy and ideas.
A few days later I went to HMV in Chester and bought as much hard house vinyl as I could find and I've been addicted ever since.
Hard dance is my life. I eat, sleep, and breathe it.
Where was your first professional dj gig?
My first professional dj gig took place in Northwich in Cheshire at a small night called Addiction. Two tracks into the set I blew the entire sound system as I was playing too loud and it was wired up to a sound restrictor. If you had told me at that time, while I stood there in complete darkness (the entire power of the club was also wired up to the restrictor oddly enough), that one day I would be doing what I am now I would have said you were lying!
When did your djing develop into producing tracks as well?
When I was signed to my old agency Nukleuz they took me into the studio to start learning how to produce and I had a few releases here and there.
It wasn't until around 2 years ago that I decided to really put my head down and concentrate on music making. I attended the Manchester School Of Sound Recording studying dance music production when I was just getting into the scene so I already knew my way around Cubase.
In March this year I launched my own label AWsum to outlet my material and it can be bought from all leading digital download stores worldwide.
You have a loyal following among clubbers. How do you cope with such dedication?
The dedication and support that people show me each week is absolutely amazing and I am so thankful to all the people who make custom outfits and special t-shirts bearing my name or logo. I know that they are the reason I'm up there dj-ing and it's something no performer should ever forget. Knowing I have such an incredible fan base is the motivation behind everything and why I'll never stop loving what I do.
What has been your favourite event so far this summer?
My favourite event so far this year has either been Hard House Revolution in Calgary at The Warehouse, Polysexual Supersexual at Air in Birmingham, or Escape Into The Park in Swansea. All three were different but all had the same thing – a f**king incredible crowd full of amazing party people going absolutely bonkers!
You are known for your technical mastery of the decks. Are you a perfectionist?
I'm a perfectionist with a slight hint of OCD (Obsessive Compulsive Disorder) thrown in I think. Everything has to be right or I just can't settle. With any aspect of my career, be it playing sets, making tracks, or running events, I want it to be perfect. If it's not then I'll keep working until it is.
Would you agree there is something completely different about Ibiza?
Ibiza is unique, in a never ending party kind of way. If you are going to have a good time and unwind then there is no place on this globe where you have as many choices to do it. There is something for everyone to ensure you have the time of your life. (That sounded like something from a travel brochure!)
What do you like doing on the island when you are not djing?
Last year I was out there every few weeks for 3 months. I used to fly in at around 23.00, go to the hotel, get changed, go to the show, play, and then get picked up and fly out on the first plane so I didn't actually have time to do anything. This year, however, I'm enjoying myself a bit more and I spend a lot of time relaxing in the bars, catching up with friends, and just enjoying the sun and antics that usually comes with the first 2 things!
What next in Whitbyworld?
The next step is touring my label and parties around the country. It's called One AWsum Tour and will involve me playing special shows at events all over the UK and beyond. This will all be coming together in the next few months so watch this space!
I've just had a new compilation out on Tidy called Music For A Harder Generation which is available in all good music stores.
Over the summer, I'll be expanding my clubbing clothes range – Whitbywear. We'll be having 12 new cyber outfits for girls and finally adding tops and vests for guys as well.
I'll also be taking my Handycam out to all the shows at which I'll be performing to capture video footage for my new youtube channel www.awsum.tv so make sure you pop on there to see what I've been up to.
For more information on Andy check out www.andywhitby.com
Subscribe to his videos at www.awsum.tv
Join Andy's Facebook group – We Love Whitby
Andy will be playing Advanced + Tidy in Ibiza on Tuesday 26 August and Tuesday 9 September 2008.
Interview by Daniel Slipper