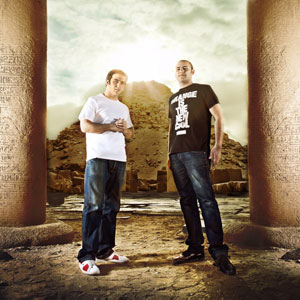 Aly & Fila are from Egypt.
They are djs, producers and label owners and bring something unique to the global trance scene.
Their sound is unmistakable. Following the release of their new compilation album I spoke to them about 2010 and beyond:
What has been the reaction to your debut artist album - Rising Sun – released earlier this year?
It has been amazing. We are so happy with the support it has received worldwide – a massive thanks to everyone.
How are the events on your massive world tour going?
We finished a 4 month album tour at the end of September which took us to countries such as Egypt, Holland, Argentina, Chile, Slovakia, North America, Canada, Greece, Russia, Estonia, the UK, Thailand, Taiwan, India, Singapore, Colombia and the Czech Republic.
Why did you decide to start your own label – Future Sound Of Egypt?
We wanted to showcase some of the finest trance talent around. The label has been going for nearly 2 years now.
The label recently joined forces with Armin van Buuren's Armada Music. How did this come about?
We have always had a close association with Armada and Armin. They have supported us a lot over the years and it was fantastic that they offered us this opportunity to join forces. They are amazing to work with.
How do you source artists for the label? Is it a case of going through the demos or do you research producers as well?
We do both really – demos and research. There are so many exciting talents out there. The future of EDM is very bright.
What was the thinking behind your new compilation album Future Sound Of Egypt volume 1?

It is a series that we wanted to start where we can showcase the talents of the label on a compilation but also other tracks too. We think the Egyptian theme gives it a unique feeling.

Was it difficult selecting tracks for the album?

We had so many tracks it was a very careful process but we are happy with the tracks we eventually selected.

Egypt has recently been announced as Dance Nation Of The Year. How do you feel about acting as dance music ambassadors for the country?

We are very proud to act as ambassadors for Egypt. Dance music is growing there all the time and we are happy to part of it. The DJ Awards were a great experience. We were the only trance act alongside Armin van Buuren to receive an award.
Do you get the sense of a massive global #trancefamily connecting across the world via social networking sites like facebook and twitter?
Social networks are such a huge tool in our industry and in general in life. It is really great to interact with the fans through these sites.
What next for Aly & Fila?
We want to enjoy the end of a fantastic year and gear up for the next one. There will be more music and touring. We want to say a massive thanks to everyone for their support during 2010 and look forward to seeing you in 2011.
Future Sound Of Egypt Vol 1 was released as a 2 cd compilation and download on 12 November 2010.
Interview by Daniel Slipper