Alex Kidd is a revolutionary hard dance institution and a special guest at the Advanced + Tidy parties at Eden in Ibiza.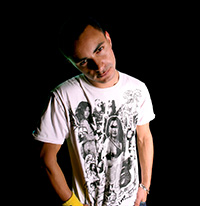 How did you become interested in music?
My older brother and sister were both big ravers back in the day. My brother was in to all the club music and Hacienda stuff so I used to pick up on his tapes from Carl Cox and Sasha when I was about 10 years old.
My sister was more into the acid techno side of things and that showed me the underground side of the dance movement.
I also started to follow the drum and bass scene and before I knew it I was spending my life in record shops, clubs, and raves.
I got into trance and hard house around the same time as I got a job in the main record shop in Manchester. From there things just took off and it has been a long 10 years since then.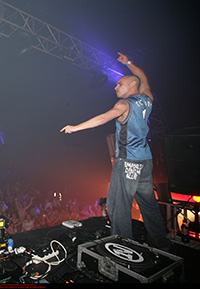 What did you learn working at Spin Inn Records in Manchester?
I learned a lot about different styles in the broad genre of dance music. I learned about new artists and obscure labels and discovered some holy tracks I still play.
But the important stuff for me was learning the industry. I saw who the movers and shakers were in the scene and I was constantly serving djs their tunes or chatting shop to promoters as they put up posters or laid out flyers. So being at the forefront of the local scene back then was a massive boost for me in terms of getting the best tunes, gigs and contacts. It really was an invaluable few years – although it might not have seemed like it at the time!
How did you secure your residency at Goodgreef?
I guess it helped that I was always playing my own unique style. I was always trying to do something different from the rest of the pack and I never gave in to the pressure of playing what was the 'in' thing.
I think I probably single-handedly introduced European hard trance and then hardstyle to the Goodgreef followers back in the day, which was a risk at the time but was something I felt would always be necessary to keep the Goodgreef sound evolving and fresh.
I am the original and longest serving resident. In nearly 10 years we have had ups and downs (lol!) but the thing that has never been in question is my residency. Because the promoters and crowd appreciate that I am always going to try and push new sounds and styles, and I appreciate their openness and willingness to let me do my thing, we have a great relationship that will continue for many years.
You have been all over the world dj-ing – Taiwan, Australia, The Netherlands, Ibiza. Excluding the UK, where is your favourite place to play?
There really are too many places and experiences to narrow it down to just one. Australia is off-the-hook and it is no secret I have a love affair with that country. I have done 10 tours there over the past 3 years because it is such a fantastic scene and I have a real connection with the stompers over there.
I do love Ibiza, Canada, and Holland though. Every time I spin in these places the gigs are unreal and the people I meet are amazing. These are the reasons I love life so much!
What was it like headlining the famous Tunnel Club in Hamburg?
The Tunnel Club is immense and not what I expected. It is just loads of tunnels, like an underground maze. It has to be experienced by any person who calls themselves an avid hard trance follower.
The best gig I did for Tunnel was this special event they held in a car tunnel called the Wallring Tunnel. It was incredible to say the least. There is this huge tunnel, like a motorway tunnel, that runs through Hamburg. They block off both ends so cars are diverted and they set up a rave inside – thousands and thousands of Germans going off in the middle of Hamburg. Now that was a memory I won't forget and I can't wait to get back there this year.
You are a technical wizard behind the decks. How do you do it?
Ha, lots of protein shakes, a balanced diet of minimal and hardstyle, and a stupid OCD-like obsession for making weird and wonderful sounds with things that aren't supposed to work (but do, sort of!)
Since the digital revolution began with the birth of Ableton, cdjs, and so on I was already fully into trying new skills and tricks and learning new methods to rock dance floors and keep both me and my fans excited.
As soon as I got my head into the cdjs and started to grasp the idea of digital turntabalism it took my game to a new level. It is the never ending story of how to push the boundaries and reinvent yourself with no limits, at the same time as having happy accidents to develop new skills.
I have become a bit of a jedi knight on the efx 1000 as well. It can really take the performance into a different league.
This desire to move forward, embrace new technologies and ideas is how I do it. It keeps me entertained, constantly revitalised, and creative. It keeps my brain on edge and my mind working overtime.
There are downsides as well. The more I want to know and learn means I spend less time chilling and letting my brain relax because I am always on a mission. Note to self: sitting at home twiddling knobs and playing beats needs to be balanced with enjoying life and getting out more!
Who do you admire and learn from?
On the hard dance scene I admire Scot Project, Zany, Kamui, Showtek, ASYS, and plenty of others for production. For overall skills, I think Organ Donors and Yoji are highly talented on both the production and dj-ing front. Kutski is my favourite dj on the scene. Gaz West and I are best mates so I have always learned a lot from him and admired what he does. Outside of hard dance it is Dave Clark who is my hero – what a legend and true ambassador.
Other than your Ibiza commitments, what does the future hold?
I have my Kiddstock festival just around the corner – check out www.kiddstock.com to get more information. This year will be off the hook with Yoji, Tatanka, ASYS, and Kamui as the headliners. It is on 16 August and will be a unique day – the only dedicated hard dance festival this year. I have very exciting times coming up over the next few weeks getting all that planned and prepared.
I am going to take a little holiday after Kiddstock and then I have to work on my album project which I'm putting together for my Kiddfectious record label.

What do you think of the fusion of hard dance and trance that is the Advanced + Tidy experiment?
It is going to be interesting. Trance is the perfect compliment and warm-up for hard dance so I can see it being a real success. It might also give the trance heads a chance to try something different.
Dave Pearce is throwing in a few anthems during his sets at Eden. What is an Alex Kidd trademark anthem?
There have been a few over the years:
Miss Shiva – Dreams
Hennes and Cold – 2nd Trip
Organ Donors vs Alex Kidd – Boot It Up
Interview by Daniel Slipper